Last Saturday night I went along to the Royal Institution in London to be at the launch of Simon's Mayo's latest book, Itchcraft. I reviewed the book a couple of weeks ago, and loved it, and I had been lucky enough to meet Simon the weekend before at another Itch event that he did in Chiswick. That was just a warm up though; he burned a €100 note (though of course it was a fake one planted in the audience), but he saved all the big explosions for the Royal Institution event.
Sadly, I didn't get much of a chance to look around the place before the event started, though it's a lovely building. It's somewhere I would like to go back to, and I think listening to a lecture there would be really interesting. Science can be an awful lot of fun, particularly when someone is standing in front of you making things go bang, and I'm all for learning more about it.
Simon had a couple of special guests with him to help launch the book. Professor Andrea Sella from University College London was on hand to provide the aforementioned explosions, and Show of Hands made a cameo to sing a song called Cousin Jack. I had never heard of Show of Hands before, and I certainly didn't know that mining songs were a thing, but they stood right in front of me (I have the type of friends that ensure front row seats are a guarantee), and sang and played beautifully. It's another step on the road to discovering wonderful new music that I knew nothing about. They were a part of the evening because there's a character in the book called Jack, and she's Itch's cousin, and given the book's links to mining, Simon named her after the song and puts her dad in a Show of Hands t-shirt at one point. Do you expect anything else from a music DJ?
The evening was a blast (literally); Professor Andrea demonstrated some scarily powerful magnets, and blew up various things (warning us first to look at the space above his head and cover our ears). As with the books, most of the science went over my head, but he informed me on Twitter that the showstopping final explosion was a mole of magnesium. It was quite spectacular too!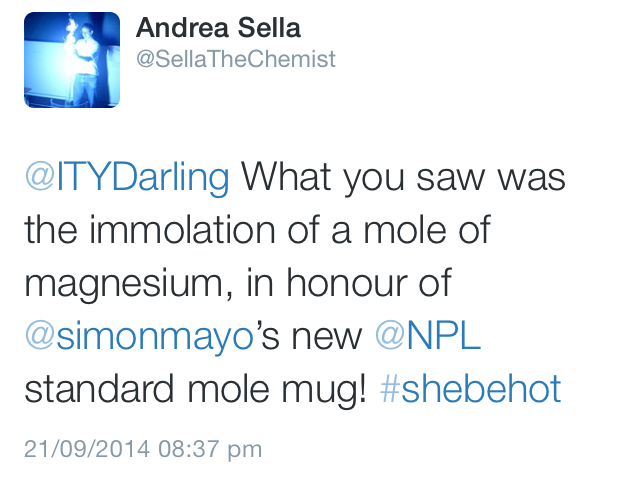 Simon Mayo is no slouch in the science department; he may not be the one creating the explosions, but he's obviously fascinated by the subject, and it's wonderful to watch children really engaging with the subject. The audience was full of youngsters, and they were so keen to get involved, asking questions and being generally wonderfully enthusiastic. He even got a load of them up to help him with a quiz he did about the current value of certain precious metals, and having seen him play the same game the week before, I had assumed it would be all kids again. Imagine my shock when he pointed straight at me and asked me to stand up – I wasn't expecting it at all and must have looked like an idiot when I said, "Me?" In fact, I know I looked like an idiot, because the ever-wonderful Chloe took some photos of me to prove it!

(Rhodium is my new favourite element.)
Afterwards I joined a very long queue to get my book signed. I had already had Itch Rocks signed the week before, but I saved Itchcraft for this week, and though it was a very long queue, it gave me a chance to catch up with Chloe and spend some time bonding over the fact that other just people don't get our love for Wittertainment. This time round, I wasn't particularly eloquent when speaking to Simon, though I did say thank you for plucking me out of the audience. And I did get a photo with him, though it had been languishing on my camera for some days before I managed to liberate it because I couldn't find the right lead.
I have Chloe to thank for this photo too; I wish I didn't look quite so awkward, but hey, when you're an awkward individual, that kind of thing tends to shine through in photographs.
I had a lovely evening; I got to meet some people that I previously only knew from online, and I got to catch up with Chloe. I've said it before, but whilst I am a huge fan of Simon Mayo, I'm a bigger fan of brilliant books, and I do truly believe that the Itch series is great. They are the best kind of children's books, because they are as appealing to adults as they are to youngsters. We've been reliably informed that there's nothing new until at least 2016, and given that Simon has confirmed he's currently writing a non-Itch book, who knows when we'll next catch up with the young element hunter? Whenever it may be, I'll be keeping an eye out for release dates and details of another explosive launch.