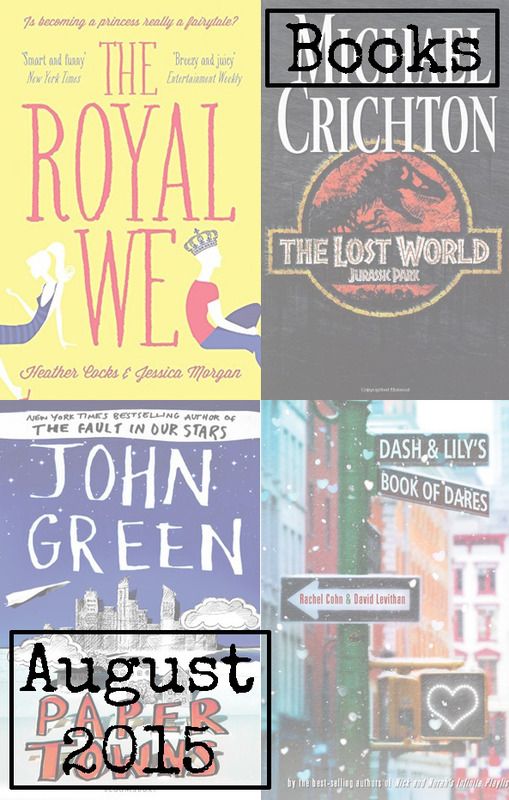 The Royal We by Heather Cocks and Jessica Morgan
I'm a big fan of Go Fug Yourself, and I've wanted to read the previous books that Cocks and Morgan (its founders) have written, but The Royal We was one that particularly tickled my fancy. It's the story of a young American woman who arrives at Oxford university to study on a year abroad, and finds herself living down the hall from the heir to the throne, Prince Nicholas. The story is entirely inspired by William and Kate, and the pair make no bones about that: they are huge fans. Nick even has a irascible younger brother, Freddie, modelled perfectly on Prince Harry. The Royal We is such a fun story; melodramatic and romantic, and everything you want this type of book to be. There's a sudden death that particularly hit home for me, and one that I think has to have been written by someone who has experienced that particular loss. It's well worth a read if slightly trashy but well written romances are your thing.
The Lost World by Michael Crichton
Having read and adored Jurassic Park last month, it actually took me a little while longer to get into The Lost World. I'm not a fan of the film, and I think I kind of expected the drop in quality to be reflected in the books. This isn't the case at all; as it turned out, The Lost World is actually probably the more interesting of the two, exploring different ideas about evolution and extinction. I'm pretty bereft that there are no more stories in this series; while I love the films and I welcome new additions to the franchise, I think Michael Crichton's writing is amazing, and I would have loved to have read more. In lieu of anything else in this series, I'm going to seek out some of his other work. Does anyone have any particular recommendations?
Paper Towns by John Green
I read Paper Towns for the simple reason that I was planning on seeing the film, and I always, always want to read the book before I see the film. It's only the second John Green book that I've read, the other being The Fault in Our Stars, and I can't say that I loved it. It was perfectly fine, and it's always interesting for me to read a book from the perspective of a male character, as I rarely seem to. But ultimately I was a left a little underwhelmed by the end of the story. The film deals with the ending so much better; rather than feeling let down by the ending, I felt uplifted.
Dash & Lily's Book of Dares by Rachel Cohn and David Levithan
Another YA book; I appear to be on a bit of a run of those at the moment. This one is written from two perspectives, with Cohn writing Lily's story, and Levithan writing Dash's. It tells the story of these two teenagers and their quest to find each other across New York City. Lily leaves a notebook in a The Strand, a bookshop, where Dash finds it. The book has instructions in it for whoever finds it to follow, and Dash does, and this sends them on an adventure in the lead up to Christmas. It's a really lovely, heartwarming book, with characters who feel entirely real and relatable. My only gripe with it was that Hermione Granger was referred to as Hermione Potter, without a hint of irony; it's a cast iron mistake that should have been picked up on!
30 down, 45 to go in my goal to read 75 books in 2015