Right now, I am mostly…
Watching : I went to see Ant-Man in IMAX last week, and I totes loved it. I particularly enjoyed being able to wear my new necklace, and though I paired with a Star Wars t-shirt for work, I made amends for the actual film, and changed into a Marvel t-shirt.
Reading : I'm currently making my way through Paper Towns, by John Green, before the film comes out at the end of this week. I'm enjoying it, but I'm finding it slightly long. There doesn't feel as though there's an end in sight, and it feels like I've been reading it for ages. That might be down to my attention span though, which doesn't feel in tip-top condition just at the moment. I'm also still reading The Lost World by Michael Crichton and The Royal We by Heather Morgan and Jessica Cocks. I had hoped to get at least one of those finished in time for my July books round up, but it didn't happen. Books roundup to follow this week!
Crafting : I'm trying cross-stitching again. As you can see from this photo, I don't have a great track record. In my life, I think I've finished one cross-stitching project, and I gave that away as a present. But I'm working on a New York one at the moment, and so far, it's going well. Even if I did buy some new threads at the weekend and then throw them away by accident.
Missing : Not only do I have to put up with no Mayo and Kermode for weeks in the summer, I also now have to put up with no Mayo on Radio 2 for two weeks. I hate the summer.
Tidying : I was thrilled to receive a little box of goodies as a thank you for a recent blog post, and in it came this little pouch for my headphones! I'm always having to untangle them from my keys at the bottom of my bag, so this is perfect, and a lovely colour too!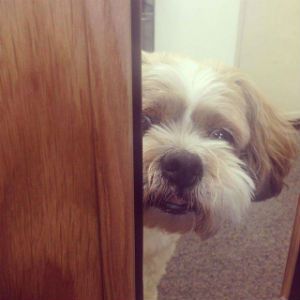 Photographing : The office dogs provide ample opportunity for photography, particularly when they are doing things like this. Dolly had just had enough on Friday afternoon (echoing my own thoughts), and Toby made us laugh by looking at us through the window on the door.