A little while ago, my friend Lucy and I decided to go out for a burger. It was one of those 'Let's do that' type of plans that didn't happen for ages, but when it did, we wanted to try and find the best burger we could. The ruminations on this, which came to include our friend Laura, turned into a desire to find the best burger in Colchester, which is near to where we all live.
Our Burger Club plan is hitting a major stumbling block in the next couple of weeks, as Lucy is leaving us to head to university in Kent, and so our club meetings will have to be during holiday times when she comes back to see us. But it's hopefully going to be something of an ongoing thing, so I hope this is just the first of many posts about burgers!
Not really knowing where to start, I put out a tweet asking for advice, and got a couple of suggestions. In the end, we decided to try Love Thy Burger, a small restaurant on Colchester High Street. It's nothing fancy, and you wouldn't plan to spend an awful lot of time in there, but it was a nice place to sit for an hour and eat and chat. The decor is deliberately industrial, it's clean, and the staff were friendly and helpful. It's a place where you go and order at the counter, which gives you an idea as to the type of place this is.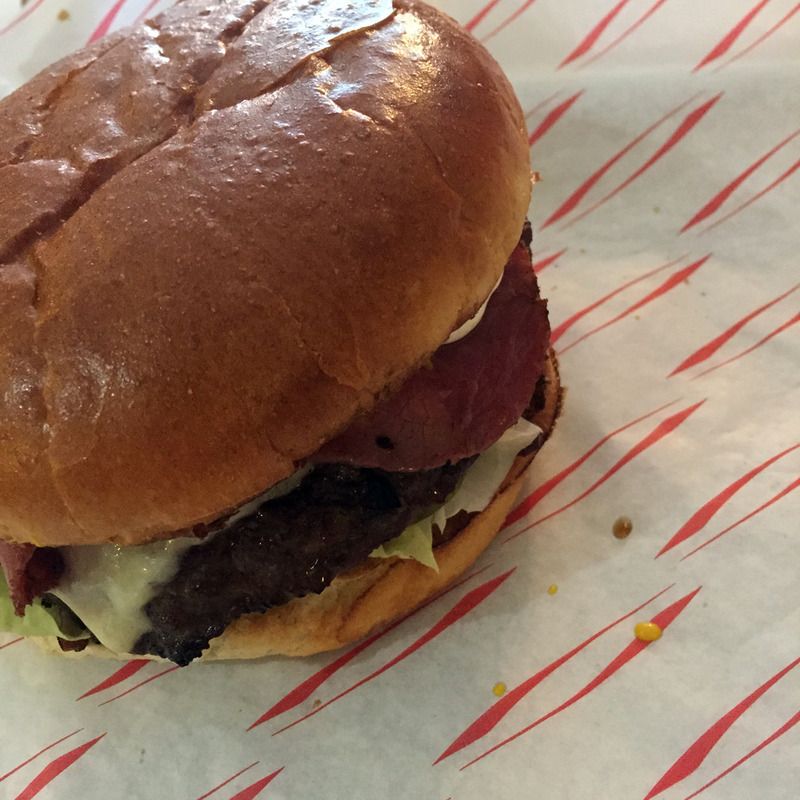 ~ The Burger of Liberty. Forgive the less than amazing photography skills! ~
We all had something different from the menu. Lucy had the Scorchio, with chilli jam, Monterey Jack Cheese, smoky streaked bacon, jalapeno and lime mayonnaise, and LTB's own spicy sauce. She liked it, but declared that it was probably a little hot for her. Perfect, I should imagine, if you like your food spicy!
Laura had the Cheesy Lee, with red onion marmalade, Monterey Jack cheese, lettuce, tomato, pickle and ketchup. She liked hers a lot!
I had the Burger of Liberty with red onion marmalade, pastrami, gherkin, American mustard, Monterey Jack cheese, tomato, lettuce and mayonnaise. I think I liked my burger the most out of the three of us; it was the pastrami that really gave it the edge! It tasted like America, which I think has a lot to do with the aforementioned pastrami, and I really liked it.
We got all three sides that are available; rosemary fries, onion rings and coleslaw. The fries are great – the rosemary really adds something different!
Ultimately, Love thy Burger is a really nice place to grab a quick bite. It feels nice to sit in there and eat and chat, and the staff were friendly. I'll definitely be going back; it's the perfect place to grab something quick and the burgers taste great.