Right now, I am mostly…
Planning : A potential trip to Scotland. If I do go, it will be for no more than three days, all told, and it will be on a shoestring budget. But I have a ticket to a very exciting radio event, and I really, really, really want to go. So I think I'm just going to do it.
http://i76.photobucket.com/albums/j36/princessjaney/20096_993364620682784_5797011782307153060_n.jpg
Making : Yesterday, Anna and I made these dinosaur pegs. I helped out with a brownie craft day she was doing on Saturday, and her craft activity was pegs with magnets on the back. We decided to make our own, with dinosaurs on, but instead of making them magnets, we're going to make ours pins, to go on a pin board. I just need to add the push pin to the back, and then they are ready to be used!
http://i76.photobucket.com/albums/j36/princessjaney/11013250_992116914140888_4285221165001435374_n.jpg
Buying : I went to Lakeside last Thursday, with some friends from work, and as usual, we all split up and went to various different shops. I tried to avoid Primark (though I did end up buying a Minnie Mouse bag in there), but when I met up with the others, it transpired that Hannah had bought some Jurassic World pyjamas, and so I had to go back in and buy myself some. We now have matching pyjamas.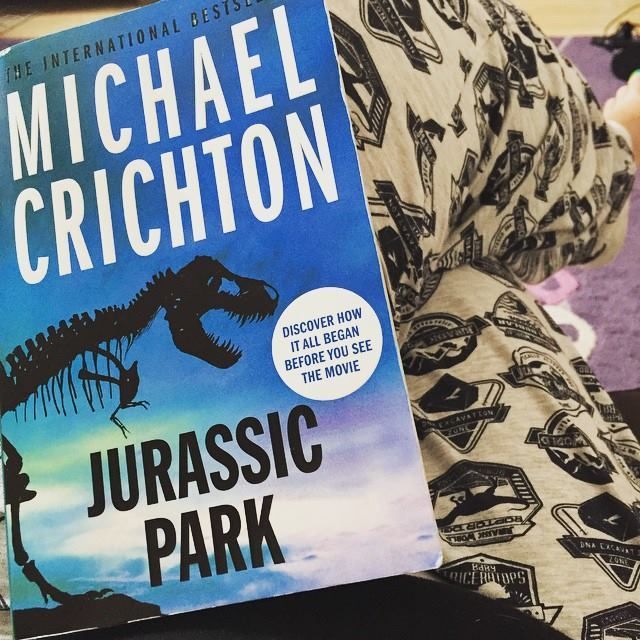 Reading : It's been a dino-kinda week, as I've been reading Jurassic Park too! (I'm also watching The Lost World: Jurassic Park as I write this!) I finished it yesterday, and I just adored it. It's easy to see why the film rights were bought before it was even published, and why it became such an amazing film; this is an incredibly well imagined story! I also read Forever by Judy Blume yesterday, in my ongoing quest to read or re-read all of her books. It's not one that I read as a teenager, though I know it by reputation, or course!
Missing : I'm missing Wimbledon. The tennis itself, and the daily appearance of John McEnroe on my television.
http://i76.photobucket.com/albums/j36/princessjaney/11202859_993339330685313_6683127816047461550_n.jpg
Making : I went along to the beach on Saturday, just for a little while. I'm not the biggest fan of the beach, if I'm honest; I like the sea, and I like photos of the coast, but I don't love sand. But I did make a sandcastle, so that was a bonus.