The One I Love
I chanced upon this on an alternative Netflix earlier this year, so I'm really pleased that it has popped up on UK Netflix now. It's an odd film, telling the story of a couple, Ethan and Sophie, who head off on a weekend away at a secluded beach house to try and save their marriage. What follows is odd, but entirely engaging. I'm a big fan of Mark Duplass anyway, and will watch just about anything with which he is involved, but I'd definitely recommend this.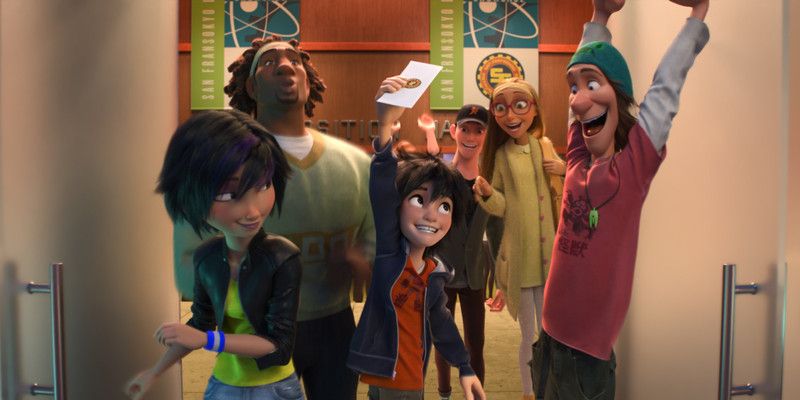 Big Hero 6
Films like Big Hero 6 are a good reason why I love having an Cineworld Unlimited card. I might not have seen this had I not; I missed the likes of Frozen and Wreck-It Ralph at the cinema, so I'm really pleased that I got to see Big Hero 6. It was such a lot of fun, and was classic Disney in so many ways, while feeling completely modern and suitable for a 2015 audience. I want my very own Baymax now.
Selma
I'd been excited about Selma since I heard about it; American History and I have a long and loving history, and I've studied Martin Luther King and the Civil Rights moments of the 1960s. David Oyelowo plays King at a very specific point in his life; the voting rights march from Selma to Montgomery in 1964. The filmmakers didn't have the rights to the actual speeches that King gave, but the alternatives are powerful and stirring, and Oyelowo's performance is as good as you have heard it is. It made me cry, and this is a rare occasion when it was actual tears of sadness and fear, rather than tears of joy. The scenes on the Edmund Pettus Bridge are truly harrowing.
School of Rock
I had actually watched most of School of Rock years ago, but had never got to the end, so I thought it was finally time to watch it! I liked it a lot, of course; I can find Jack Black annoying at times, but it depends what he's doing, and he's on fine form here. There's not an awful lot to say about it, given that pretty much everyone in the entire world has seen it, but it's one I'd definitely watch again.
The Princess Bride
The Princess Bride is a film that I know I should have watched before now; it had somehow passed me by for all these years, but I've never heard anyone say a bad thing about it! I finally settled down to watch it on a Sunday afternoon, and I just loved it. I hadn't realised that there was a framing device, and I really liked that aspect, and then I really liked the story – romantic, funny, action-packed – it has it all!
How to Train Your Dragon
Everyone I've ever spoken to about How to Train Your Dragon seems to have loved it more than me. I thought it was OK, but I just liked it. I think maybe it didn't quite have my full attention, and that might be the reason for my lukewarm reaction to it, but I'm not sure. For anyone who doesn't know, it's an animated film about a young man who lives on an island where dragons terrorise the residents by stealing livestock. Hiccup, the young man in question, manages to train the dragon, and the film follows his attempts to do that, along with his attempts to convince his father, and the rest of the island, that dragons aren't all bad. Perfectly fine, but not really something I feel the need to shout about!