Visiting Highgate Cemetery was on last year's birthday list, put there because my sister has been saying for years that she wanted to go, having read a book where it featured as a setting. I fancied the idea of the cemetery too, so we tried to go before my 32nd birthday, but it didn't happen. Knowing that we couldn't possibly fail for two years in a row, I stuck it back on the list, and we made prompt plans to go in January, and we finally made it last weekend!
Kim didn't want to go in the summer, when the sun was bright and hot; she wanted to go when the skies were grey and it was cold. We managed that! It rained pretty much all day, but that just added to the atmosphere of wandering around a cemetery!
I feel as though I am constantly apologising for the quality of my photos here, but my excuse this time is that I had a camera with me, but hadn't taken the time to check that the battery was charged and it died on me. So I had to use my phone, and though I don't think they are that bad, I could have done a slightly better job with a camera. I also have qualms over sharing photos of headstones at all; I ummed and ahed over it, but came down on the side of doing it. I am sorry if this feels distasteful to anyone.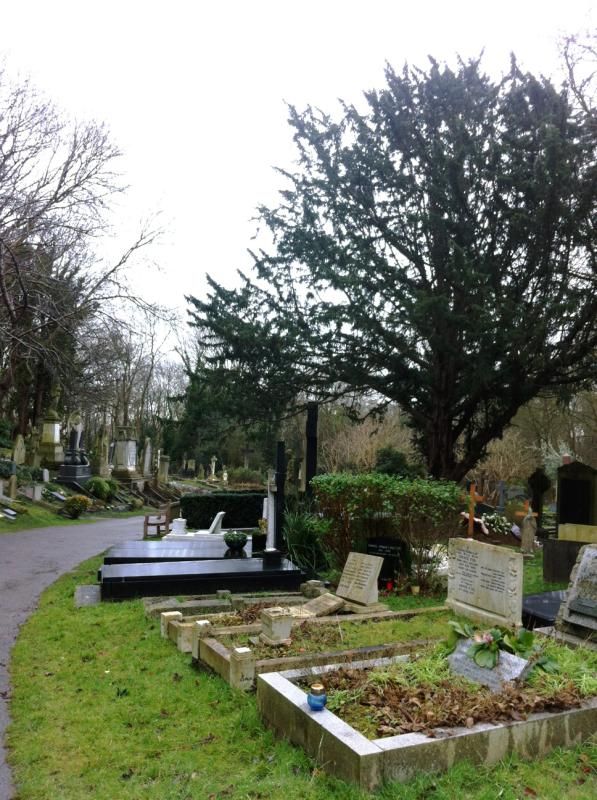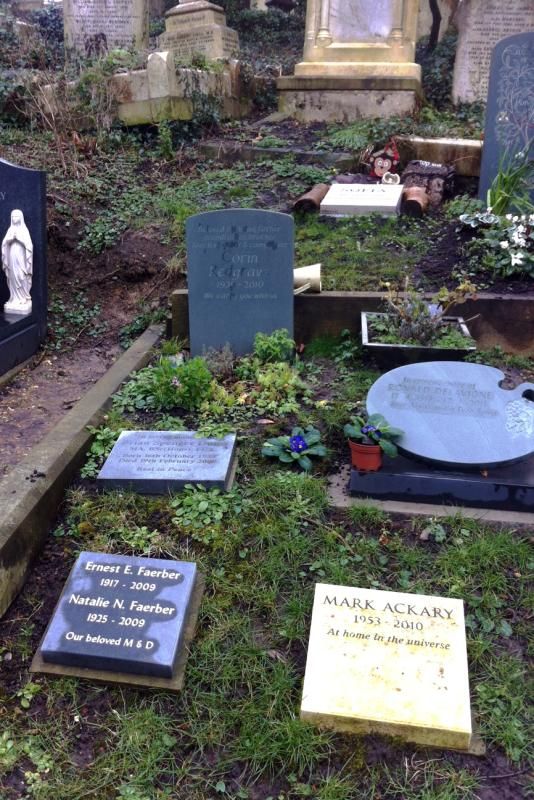 Corin Redgrave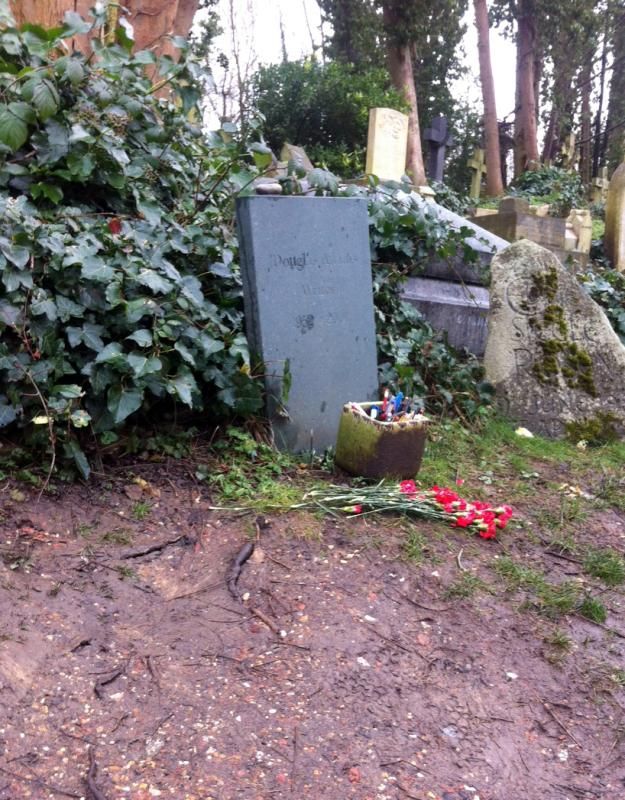 Though you can't really see the name, this is Douglas Adams' grave, where people leave ballpoint pens in a small pot, because of his character Veet Voogajig, who wondered what happened to all the ballpoint pens that he'd bought in his life. He has a good point.


Only someone like Patrick Caulfield could have this as a gravestone!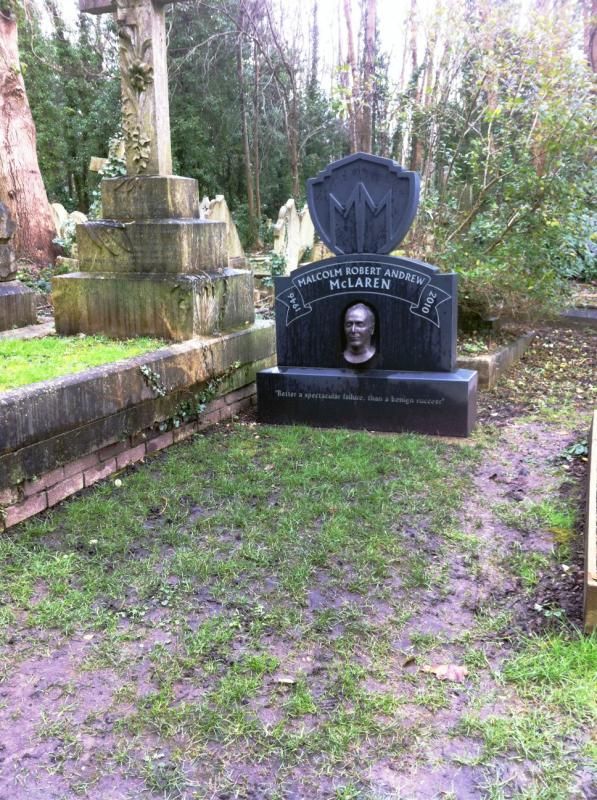 Malcolm McLaren
You can rely on me to find the founder of a bookstore in a cemetery!

Karl Marx is the biggie, as far as this particular cemetery is concerned.

Weirdly, when I had been talking about going to Highgate on the day before went, some of my work colleagues found it a little bit on the weird side that I'd go to a cemetery as a means of entertainment (even though it's a totally valid thing to do). I mentioned that there were various notable people buried there, and that one of them was Jeremy Beadle. Chris, one of the aforementioned colleagues said that he hadn't even realised that he had died, so we googled it to check when it was, and it turned out to be on that exact day, seven years previously. Of course, all the jokes were then made that I make a yearly pilgrimage! In the end, we almost missed his grave, but we found it eventually. I have all the respect for the books.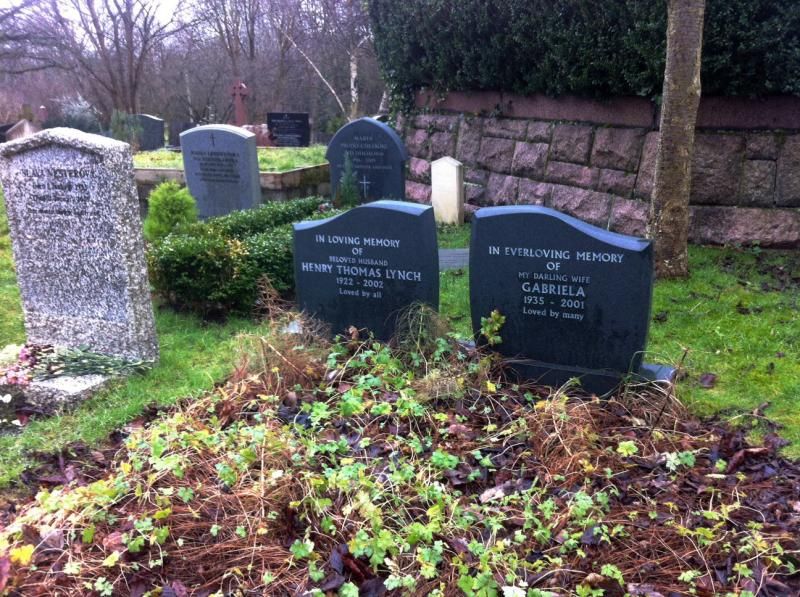 One of the things I like about cemeteries is wandering round and thinking about the lives people lived before they died. It's easy to imagine stories for them, wondering what happened when a husband or wife died many years before their spouse, or imagining, as in the case of Henry and Gabriela, that one could hardly bear to live without the other. (Though it did make me smile that Henry was loved by all, but Gabriela was just loved by many.)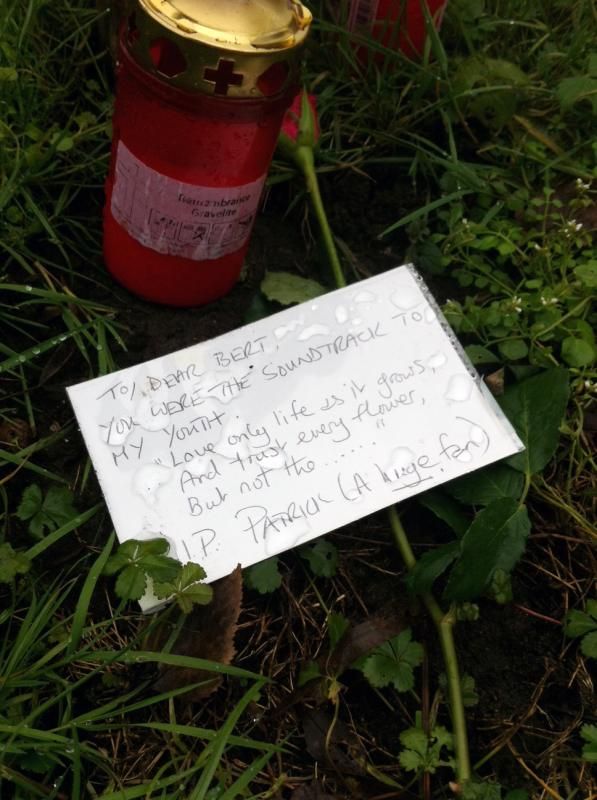 Again, I wasn't sure if I should really include (or take) a photo of this, but I liked it, so I went with it. Even though I don't know anything about Bert Jansch (though I have since learned that he was a Scottish folk musician, and a founding member of Pentangle – hello to Pentangle), but the fact that he touched this man's life enough for him to write a note for him really touched me.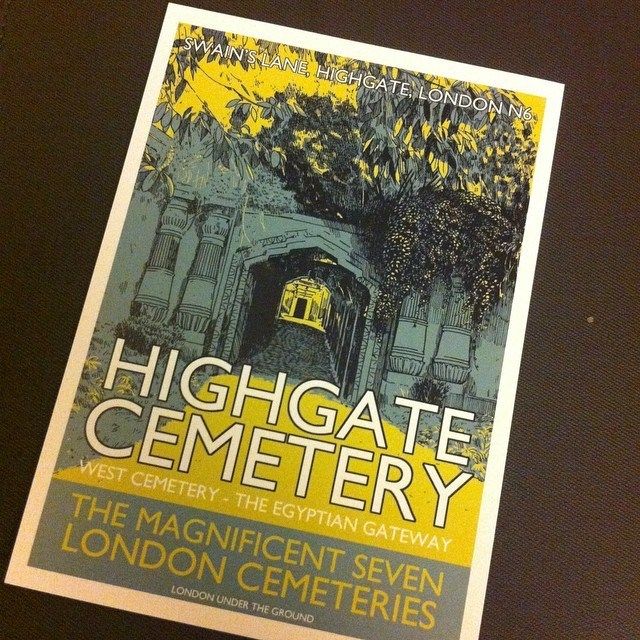 I completely forgot to take a photo of Kim and me during the day, so I resorted to one back at home, but by this point the light was terrible and we'd been out in the rain all day, so I changed it to black and white, just to be kind. And of course, I bought a postcard from the cemetery!
We decided just to wander around the East Cemetery, which costs £4 each for entry. The West Cemetery is by tour only, and costs a bit more, at £8, so we decided against it this time. It's definitely something I'd consider doing in the future.
17. Visit Highgate Cemetery