It has been ages and ages since I shared a library list! There's no good reason for this, I have been reserving and collecting things since my last update in August, I just haven't shared any of them! But I thought I would now, because I have three on my list that I am waiting for (and I like to do these things in threes!).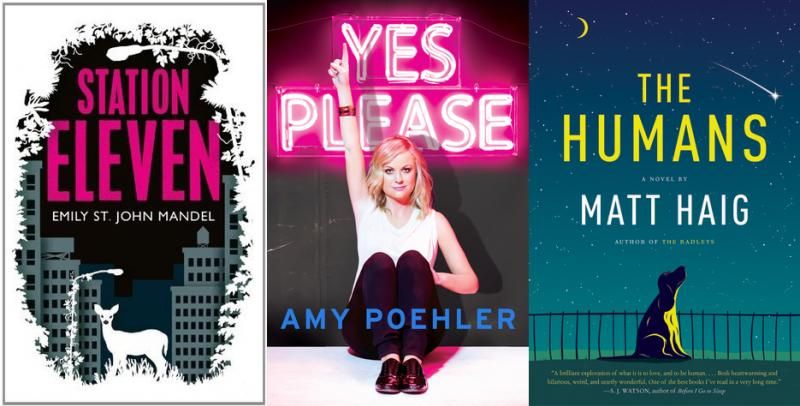 Station Eleven by Emily St John Mandel
This is one of those books that I have no idea how I heard about, or, to be honest, why it's on my list. I can't see that anyone has recommended it, and the honest truth is that it doesn't even sound like the sort of thing that I would necessarily want to read! It's entirely possible it was on some sort of list of best books, or something, because that's where I get a lot of my reading inspiration. It sounds interesting enough; it's about an actor who dies onstage during a production of King Lear, and then goes on to explore a connection between him and four other people. Goodreads has it as science fiction and dystopian fiction, and I'm not sure how that fits in, but I'm interested to get it to see what it's all about! I'm number three on the list, and I reserved it a month ago, so it could be a while.
Yes Please by Amy Poehler
There's no wondering why this one is on my list. I'm a big Amy Poehler fan (as are most people I think), and I've been waiting for ages for her book to come out. I have loved Tina Fey's and Mindy Kaling's memoirs, and this, I believe, is very much in that vein. It's obviously going to be laugh out loud funny and very clever, so I can't wait to read it. I'm number one on the list, but it's not actually in stock yet, so who knows when I'll actually get it!
The Humans by Matt Haig
I'm that idiot that didn't know anything about Matt Haig until about a month ago. Someone I greatly admire tweeted about him, and then weirdly, he followed me on Twitter (I'm one of thousands, so don't feel special). So I actually looked into his books, and realised that he's probably a bit great, so I went ahead and reserved The Humans. It sounds really great, a story about a dead professor whose body is occupied by an alien, and I can't wait for it to arrive. I'm number one, and there are plenty of copies available, so hopefully this should arrive within the next couple of days.
There are three other books on my list that I am waiting for, and have been for some time! I reserved Ballistics by D.W. Wilson, in May, and I was still sitting at number one on the list with no sign of movement. I had a little look, and it seems as though I might have been waiting for a copy that was never going to arrive, so I've switched to a different copy. Fevre Dream, by George R.R. Martin, was one that I was attempting to read for my 1982 challenge, but that came and went without me getting the book. I've switched the copies on that too! And finally, I'm still waiting on Only Remembered, by Michael Morpurgo, which I reserved in July, and shows no signs of arriving. I don't know what's up with that, but I think Essex Libraries has one copy, so it will just remain on the list until it arrives.