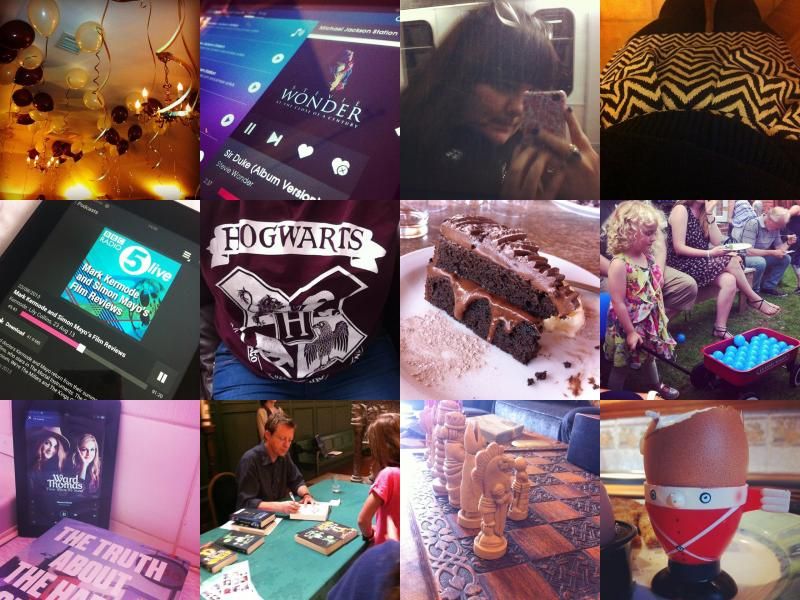 I'm thrilled to have completed another 32 Before 32 item, because this year has been mostly a bust. There were a lot that were ongoing goals that didn't come to anything, so I'm glad this one did. It has been really easy to achieve it, because it's just a case of remembering to take the photos!
I put together my favourite images from each month, and I think they sum up my year quite well. A fair amount of food, family, and a smattering of Simon Mayo. That says it all really. I went through each post, and made some observations.
I took 152 photos; the most I took in one day was fourteen, and the least was ten.
By a huge margin, food and drink was the most popular subject in my photos – 32 photos in total.
19 of the photos were of books, three of alcohol, five of me in the bath and two of animals.
Three of the photos were of me watching Pointless or Pointless Celebrities – it's always on when I'm doing Photo an Hour!
Five of the photos are related to Simon Mayo, Mark Kermode or Wittertainment. Yeah, it was the year of the obsession.
As I mentioned in my previous post, Photo an Hour will continue, each and every month. If you want to join in next month, we'll be doing it on the 14th December. Please do join in, it's a lot of fun!
10. Complete a Photo an Hour post monthly