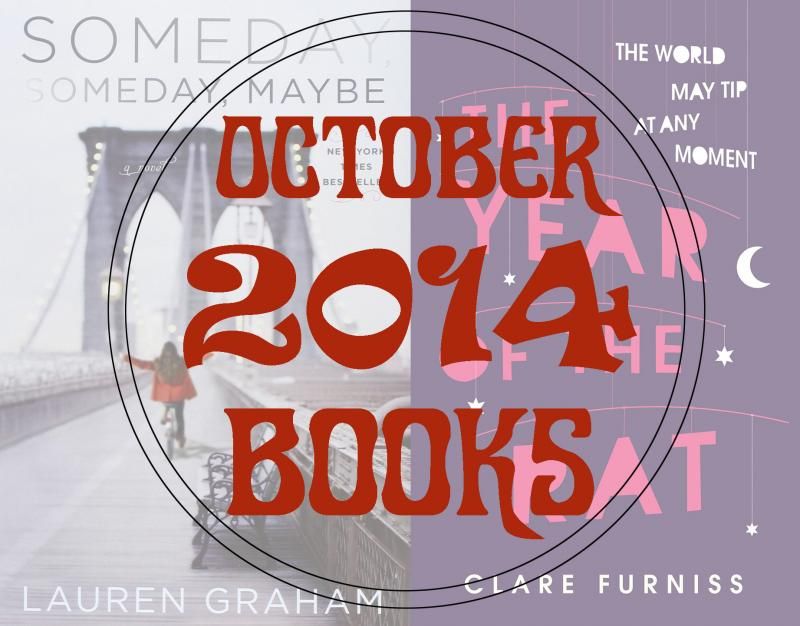 Suffice to say, October was a terrible month for books. Two books is just not acceptable! To be honest, it wasn't even until the end of the month when I suddenly thought, how many books have I finished this month? I know I keep going on about it, but I was honestly just so busy that I didn't even get a chance to think about the fact that I hadn't read much, never mind actually do any reading!
Someday, Someday, Maybe by Lauren Graham
I know I'm not alone in being a huge fan of Lauren Graham. Not only is she a wonderful actress, she just seems like a really good person, someone I could easily be friends with. When I heard that she had written a book, I desperately wanted to read it, but it has taken me quite some time to actually get my hands on it. It tells the story of Franny, a young woman who is trying her hardest to make it as an actress in New York City in the 1980s. It's obviously a world that Graham knows well, so she is able to bring it to life, and make Franny someone that you root for. I really enjoyed it; it's well written but accessible, and the story is fun and engaging. It hasn't necessarily stuck around in my thoughts for too long (I had to look up the name of the main character as I had forgotten), but it's a perfectly enjoyable read. I'll definitely seek out any further books she writes.
Year of the Rat by Clare Furniss
I read the first chapter of Year of the Rat ages ago, when the book was featured as a Radio 2 Book Club choice, and they shared the opening chapter on their website. I enjoyed it, and then didn't do anything about getting hold of the book! But then I remembered that I was intrigued by it, and downloaded it. It's a Young Adult novel about a teenager called Pearl, who has just lost her mum. This would be bad enough, but given that she died during childbirth, Pearl has to deal with some serious feelings of resentment towards her new little sister, who she christens 'The Rat'. It's a poignant and interesting story about grief, and how Pearl tries to deal with how she is feeling towards this new arrival, her dad, her best friend, and her mother herself. Mother and daughter stories are always a bit of a tough read for me, but I find it cathartic to read them and have a cry, and that's what I did with Year of the Rat.
Just two books in October means that my total for 2014 is languishing at 56. It means I'm quite behind with regards to my goal of 75, and while I'm trying not to put too much pressure on myself, I will be disappointed if I don't achieve it. November and December are much quieter than October, and I already have some great reads lined up, so I'm just going to plough on, and see how far I have got by the end of the year.
56 books down, 19 to go in my aim to read 75 books by the end of 2014. Follow me on Goodreads to keep up with my progress.