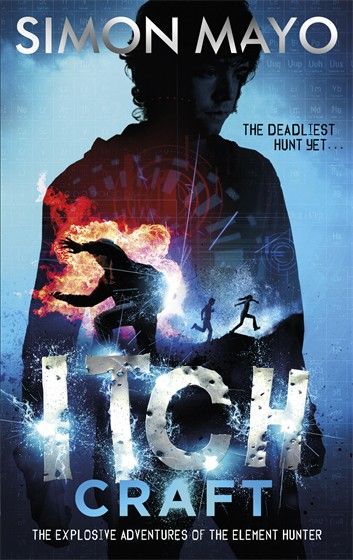 When Itchcraft arrived a couple of weeks ago, I was terribly excited. The first two books in the series were rip roaring fun, and when the second book ended with a sense of denouement, I was curious as to where the story would go next.
Itchingham Lofte, known to his friends as Itch, is an element hunter and chemistry fanatic. Prior to the events of the first book, this fanaticism got him into no more trouble than blowing up elements in his bedroom and scorching his eyebrows, but when he comes across the previously undiscovered element 126, a highly radioactive and therefore very valuable set of rocks, he soon finds his life in danger. Itchcraft picks up some time after Itch and his family think their troubles are over; while the villainous Nathaniel Flowerdew is still at large, the rocks aren't, and Itch and his sister Chloe start the book on holiday in South Africa with their father.
Of course, no book about someone's troubles being behind them is ever going to be particularly interesting, and it's not too long before Itch finds himself in trouble again, dragging Chloe, his cousin Jack and potential love interest/new friend Lucy along for the ride. I read Itchcraft while I was also embarking on a Harry Potter re-read, and it occurred to me that Harry has nothing on Itch when it comes to getting into scrapes! When a school trip to Madrid is mentioned, it's obvious that it will not be smooth sailing, and Itch and the gang end up getting caught up in riots, caused by people protesting the mysterious case of exploding Euros. The last third of the book finds the four teenagers in mortal peril, and although I was sure that our titular hero would survive, I was never convinced that Mayo wouldn't decide that one of the three girls was expendable for the the sake of the story.
When I reviewed Itch Rocks, I mentioned how much I enjoyed that Itch is surrounded by fantastic female characters. Itch is brilliant, knows just about all there is to know about chemistry, but to get out of all the scrapes in which he so often finds himself, he relies on his three female cohorts. Chloe, Jack and Lucy are all brilliant in their own way – Chloe is pretty fearless, much cooler than Itch, and utterly loyal, Jack is more often than not the voice of reason, and tries (mostly in vain) to stop Itch from getting into trouble, and Lucy is almost as brilliant as Itch when it comes to chemistry.
We are also introduced to a group of formidable women who are out for revenge. Six women who are proficient divers and friends of Shivvi Van Took, they are ruthless and efficient, and it's not clear for most of the book if they are going to turn out to be the good guys or the bad guys. Simon Mayo has proved himself as an author who has no qualms about writing strong female characters.
He also has no qualms about killing off characters the reader has become attached to, and in doing so, he finds himself with a grieving main character on his hands. The scene in which Itch and Lucy discuss how Itch is feeling, and the way he tries to cope with his sense of grief and his feeling of culpability for the death is beautifully touching.
On an aesthetic level, I love the Itchcraft cover. It's probably because I like the colour blue, but I think it's the best of the bunch, and it will look great on my bookshelf with the other two books. It teases the story perfectly, full of explosions and fire and madcap chases. It's perfect!
Itchcraft is easily my favourite of the three novels so far. It takes the story to the next level, and has moments where you genuinely don't know if your favourite characters are going to survive. It marries tragedy, action and adventure together perfectly, and has left me with more questions about the motives of some of the characters. The science might go over the head of those not well versed in the contents of the periodic table, but the relationships between the characters are so well written and believable, and the action set pieces so exciting, that in the end that doesn't matter one bit.
Itchcraft by Simon Mayo
First published: 11 September 2014
ISBN: 9780857532954
Doubleday
Review copy provided by publisher