As I said last time I shared a library list, it's been a while again. I go through phases where I reserve everything in sight, and then I hold back and remember that I already have far too much to read to be adding more to the pile. Up until the other day, I had been holding off, and waiting for the few books on my list, and then I went on a bit of a reserving frenzy, and here we are again!
Testament of Youth by Vera Brittain
I heard Clare Balding talking about this book on her Radio 2 show on Sunday, and it reminded me that I have wanted to read it for a while, so I reserved it straight away. Vera Brittain served as a nurse during World War I, and she lost her fiancée, her brother and two close male friends during the conflict. Testament of Youth is famously a memoir of her life during the war, and everyone I have ever heard talking about it says how powerful and wonderful it is. I can't wait to read it, but given the centenary of the war this year, I'm number twenty on the library list, so it will be a while.
Love, Nina: Despatches from Family Life by Nina Stibbe
Whenever Janet at Words That Can Only Be Your Own posts her monthly reads, my to-read number creeps up a little. There's always at least one book that she has read that I want to read! This month, it was Love, Nina, a collection of letters from the author to her sister, and its sounds amazing. I love books of letters, I think they give you an insight into life in a very unique way, so I'm eager to read this. I'm first on the list, so I'm hoping it won't be too long.
Fevre Dream by George R.R. Martin
I'm trying to step up my attempt to read ten books from 1982 before my birthday. I'm currently on three, with three months until my birthday, so it's going to be a bit of a challenge! Fevre Dream is one such book. I've never read anything by George R.R. Martin that isn't in the A Song of Ice and Fire series, so I'm curious to see what I make of this one. It's a vampire story set in the mid-19th century, so it's not my usual type of thing, but that's the point of the challenge – to push me out of my comfort zone in terms of reading! I'm number three on the list for this one.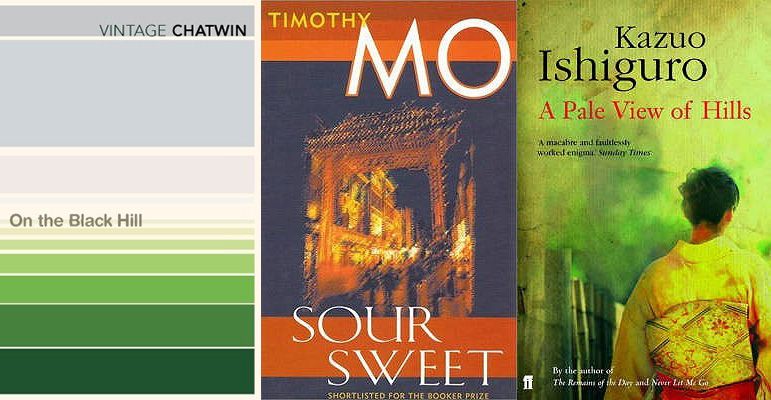 On the Black Hill by Bruce Chatwin
Another 1982 book, I have no idea what to expect from On the Black Hill. All I know is that it is set on farm in rural Wales, and tells the story of two brothers. it seems to have some favourable reviews online, so it's definitely worth a go, but I worry that I will be bored by it! We'll see; I'm number two on the list, so I shouldn't have too long to wait to find out.
Sour Sweet by Timothy Mo
This is another book that I would never have thought to read had it not been for the 1982 challenge. It's about the Chinese immigrant experience in 1960s London. China as a country was never one that fascinated me, and I had never particularly wanted to explore its culture, but last year I read Miss Chopsticks by Xinran, and it sparked my interest a little bit. I hope I'm going to enjoy this one, and I'm number one in the list for it.
A Pale View of Hills by Kazuo Ishiguro
I've never read a whole book by Ishiguro; I tried to read When We Were Orphans last year as part of my A-Z challenge, but I couldn't manage to get through it. This is another one from 1982, so I'm going to give him another go and see if I get any further. I'm intrigued by Ishiguro's identity as an Anglo-Japanese man, I would think that means he can bring a unique sense of identity to his characters, so hopefully I will enjoy A Pale View of Hills. I'm top of the list at the library.