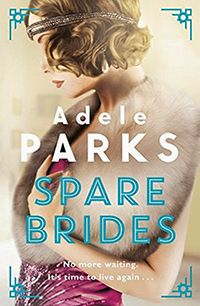 With the centenary anniversary of the start of the First World War, books like this are popping up everywhere. I've always found that reading fiction about a historical period allows me to understand the history as well as, if not better, than a non-fiction book on the same subject (provided it's well written and accurate, of course).
Spare Brides is set in the early 1920s, shortly after the end of the First World War. It tells the story of four women: Ava, Beatrice, Sarah and Lydia. The four friends are feeling the effects of the war; Sarah's husband was killed on the front, while her sister Beatrice, single at 26, is a lonely victim of the millions of men not returning from France. Ava is an independent young woman, engaging in love affairs but not willing to settle down. Lydia is married, but her husband Lawrence didn't go to war, and Lydia is worried that her failure to conceive a child is punishment for what she sees as her husband's cowardice. When she crosses paths with a dashing war hero she is tempted into pursing an adulterous affair with him, and none of the friends' lives will be the same.
I know Adele Parks is a popular author, though I have only ever read one of her books before. Spare Brides is the first historical novel she has written. i can't say, having finished it, that I am a converted fan of Parks. Although i enjoyed the story to a certain extent, I found the language that Parks used to be completely over the top. When I'm reading a book like this, I don't expect a comment on the human condition every couple of lines. I just want to know what's happening to the characters, and why. The subject matter and the writing just didn't seem to fit with one another at all. The sex scenes were completely overwritten, in a way that just made me want to skip ahead.
"They forgot everything other than each other. They drifted beyond their pasts and they did not need futures."
Lines like this are designed to make me think that the connection between this two people is extraordinary, but all it makes me do is roll my eyes!
The scenes were long and drawn out; as a chapter finished I expected the next one to move the action on, but it just went back and picked it up again, leaving me sighing. The end of a chapter, when used well, signals a dramatic break in the action, but here, there was no drama, just continued meandering.
I think Lydia, who was posited front and centre as the main character, was supposed to elicit my sympathy. Married to a man she is fond of, she doesn't realise passionate love exists until she meets Edgar, a war hero with whom she falls head over heels in love. But I found her boring, and I wasn't particularly sympathetic to her plight. I was much more interested in Ava, an independent, feisty and ambitious young woman who is happy to sleep with men she finds attractive but has no intention of marrying them. Sadly, her story was pushed to the side in favour of Lydia.
It wasn't all bad. I enjoyed the setting; the upper echelons of society in the 1920s is always an entertaining backdrop in a book. After a slow start, I found myself enjoying the idea of picking up Spare Brides to read again, and once I'd got two-thirds of the way through, I was eager to finish to see how the story ended. I just wasn't all that impressed with the writing, or some of the characterisation. I'm sure if you're a fan of Adele Parks' previous work, this will be right up your street. And it has a really pretty cover, so there's always that.
Spare Brides
First published: February 2014
ISBN: 9781472205391
Headline
Review copy via Bookbridgr