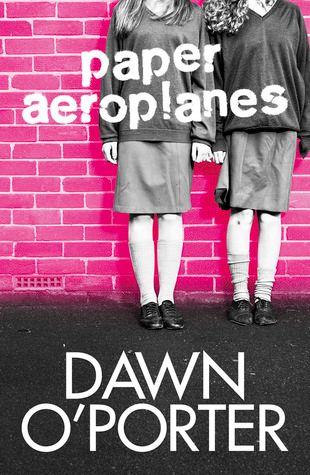 Paper Aeroplanes had been on my library list for the longest time when I was lucky enough to spot a tweet saying that it was free in the Kindle store for one day only. Needless to say, I snapped it up and got reading, and it ended up taking me less than a day to read it. This should give you some idea as to how much I enjoyed it.
Renée and Flo are classmates in Guernsey in the mid-1990s. At first it seems as though they couldn't have less in common; Flo is studious and quiet, best friends with Sally who treats her like dirt, while Renée is outgoing, confident and sexually experienced. They find each other when they need each other the most; neither has a happy family life, and at times it seems as though their friendship is the only thing that will pull them through.
This is a wonderful book about teenage friendships; Renée and Flo are both vulnerable in their own ways, and both have to deal with loss at a young age. They are also suffering from having friends who don't really understand them. Flo's 'best friend', Sally, is an odious girl. O'Porter has done a great job in creating such a hateful character because at various points I just wanted to shake Flo and tell her to get out of this toxic friendship! Renée is friends with two girls more out of convenience than anything else, and while they aren't nasty, they don't understand Renée at all. With all of this going on, I spent the first third of the book 'shipping' Flo and Renée. I desperately wanted them to find one another, though of course I knew they would in the end.
The joy of reading a book about teenagers set in the mid 1990s is that I have distinct memories of this time. I was 12 in 1994, so while I was a little younger than the protagonists, all the cultural markers were completely familiar. Of course, O'Porter herself would have been the same age at Flo and Renée at this time, and so she knows exactly what she is writing. That being said, she doesn't try to shoehorn in too many references; there aren't constant mentions of chart music from the time, just the odd one here and there.
Paper Aeroplanes is a truly lovely book, and I would encourage anyone who has ever been a teenage girl to take a look at it. There's plenty of boy stuff happening, with Renée developing a huge crush on Flo's brother, but this isn't a book about boys and girls, it's a story of the deep and complicated friendship between two girls. It feels completely and utterly authentic, and it's a book that has stayed with me. I'm thrilled that there is a follow-up, I'm already itching to get my hands on Goose, and I suspect I'll be downloading it sooner rather than later.
Paper Aeroplanes
First published: May 2013
ISBN: 9781471400360
Hot Key Books
Kindle Download