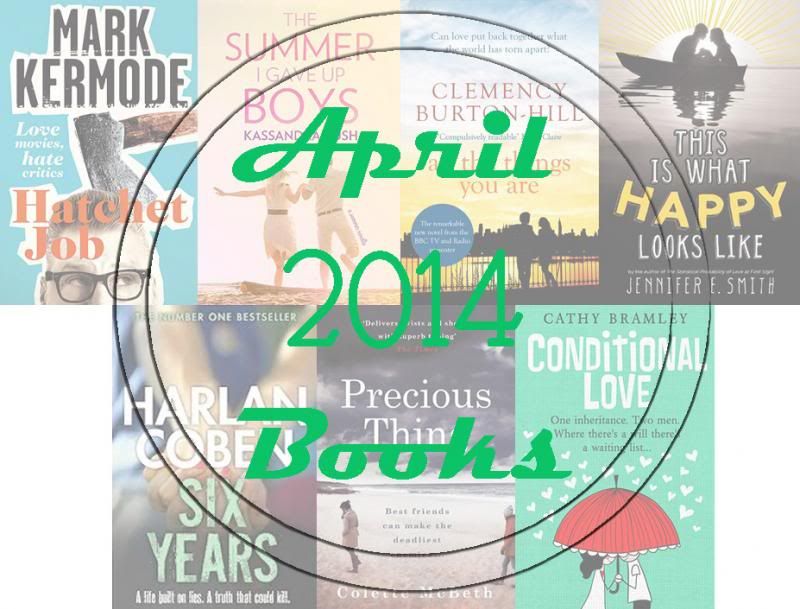 Here we are again at the end of another month (technically the start of another, but I'm never very good at getting these posts up on time), and I managed seven books in April! This keeps me squarely on track as far as my target of 75 goes, but it does play havoc with my little graphic that I make each month. They are already pretty unprofessional, and now this month I had an uneven number of covers to play with.
Hatchet Job by Mark Kermode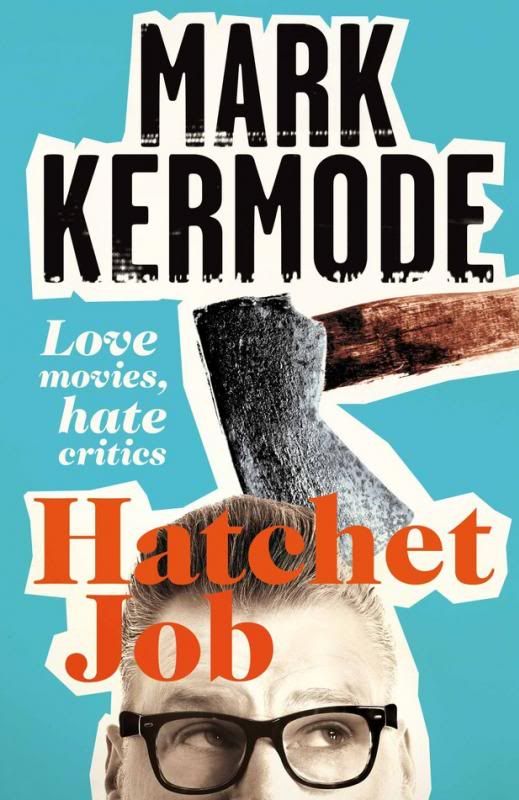 When I was updating my books page earlier, I suddenly realised that I had never written a post about Hatchet Job, and as it's one of the ten non-fiction books I am trying to read as part of my 32 Before 32 list, I really should have done. So I put together a hasty post that is not very good, and you should see that later on today! The fact that I finished it three weeks ago and forgot to write about it means that I can't think of an awful lot to say, apart from the fact that it marks the end of my journey with Mark Kermode's writings, because I have run out of books to read now. I can't imagine that if you aren't a fan of his, you will find anything particularly interesting here, but if you are a fellow Wittertainee, you've probably already read it.
The Summer I Gave Up Boys by Kassandra Kush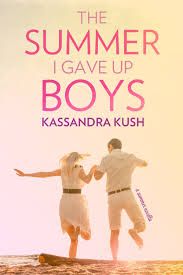 I think I ended up reading this book because it was a free Kindle download. In fact it must have been, because there's no way I would have paid for it. I read Young Adult books from time to time, because I enjoy them, and even if they are bad, they tend to be short, and so it's not a waste of too much time. The Summer I Gave Up Boys was one such book: bad, but very short. It was so bad; there was no dramatic tension whatsoever, because I knew from the first page what was going to happen. It was totally unrealistic; even as a thirty year old, I know a little bit about what the younger generation are up to, and it seems to me that the author had very little idea. It was just awful, but it took me no more than an hour or so to read, so I can just give it up as a bad choice and remember never to read anything by this particular author again.
 All The Things You Are by Clemency Burton-Hill
I received All The Things You Are as a review copy from Headline through Bookbridgr, and I really enjoyed it. It was a really intelligent look at a romance between two people from the same city but with completely different family histories, and this conflict comes to the fore when they take a trip to Jerusalem together. I wrote a review on it here, and I gave it four stars on Goodreads. I feel as though most of the books that I have read lately have been distinctly average, so it was a pleasure to read something that made me think, and that presented a love story with a bit of a difference.
 This is What Happy Looks Like by Jennifer E. Smith
This is What Happy Looks Like is another Young Adult book that didn't take me very long to read, but luckily it was a lot more enjoyable than The Summer I Gave Up Boys. There's a formula to these type of Young Adult books – it's always summer, the heroine always lives in town on the beach, a boy usually arrives from elsewhere, there's a reason why they shouldn't be together, they end up together. It's not great literature, but sometimes it's entertaining and it appeals to me on a level that says something about me, I think. This book tells the story of a young movie star who accidentally emails a teenager in the aforementioned beach town, getting the email address of his friend wrong. They start up a relationship through these emails, without her realising who he is. When they finally meet, it all seems as though it won't work out, because she has certain family issues, but in the tradition of Young Adult stories, all turns out well. Perfectly enjoyable, but nothing special.
 Six Years by Harlen Coben
I had never read any Harlen Coben before, because I'm not a huge fan of American crime novels. They just aren't my sort of thing. But when I read about the premise of this novel online, I thought it sounded promising. Jake and Natalie are a young couple very much in love, when Natalie breaks Jake's heart by marrying another man in front of him. Years later, having promised to have no contact with the couple, Jake sees an obituary for the man Natalie married, and decides to go to the funeral to pay his respects. Whilst there, he finds that the widow is not Natalie, and nobody has any knowledge of her. This leads Jake to begin to investigate what is going on, and the plot takes many twists and turns. Sadly, whilst the premise was promising, the execution and writing wasn't great, and I found myself sighing over clichés and plot contrivances. I think I'll be steering clear of Harlen Coben in the future.
 Precious Thing by Colette McBeth
I was lucky enough to receive Precious Thing as a review copy, again from Bookbridgr, and I finished it a couple of days ago. I still need to write a proper review on it, which should be up in the next couple of days, so I don't want to pre-empt that too much! Talking around it, rather than about it, I enjoyed it up to a certain point, but I was unfortunate enough to read a small spoiler before I had really got into it, and I think that probably affected my enjoyment of it. It tells the story of Rachel, a television news correspondent who finds herself as part of the story when it emerges that her childhood best friend, Clara, has gone missing, and police suspect she has been abducted. It has many twists and turns, and nothing is quite as it seems, but I don't think I enjoyed it as much as I expected to. Stay tuned for a full review, coming soon!
 Conditional Love by Cathy Bramley
I rushed to finish Conditional Love, because I thought that I was only on five books for the month, and then by the time I had almost finished, I realised that I was actually on six. It was one that was a free Kindle download that I spied on Twitter, and while I knew it wasn't going to blow me away, sometimes it's nice to just read a book that is enjoyable. Conditional Love was enjoyable, but it was really hard to get on board with the heroine, Sophie, because she was so clueless when it came to her boyfriend. Her sexist, arrogant, money-chasing boyfriend, who demeans her and dumps her, and yet she comes back for more. It's obvious who she is meant to be with, but she doesn't get there quickly enough because she's too busy apologising for and defending this idiot. It's not essential to like the heroine of a book, but it's important for me to understand where they are coming from and respect them, and I couldn't connect with Sophie because I just didn't believe she would be that stupid.
25 books down, 50 to go in my aim to read 75 books by the end of 2014. Follow me on Goodreads to keep up with my progress.