Right now, I am mostly…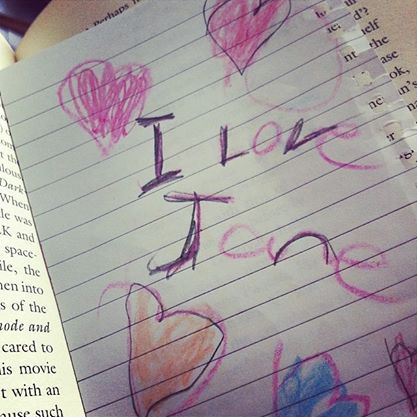 Using : I have been using this little note that my niece wrote me as a bookmark recently. It's nice to have a little reminder that I'm loved every time I open my book!
Talking : My friend Anna runs a Brownie and Guides pack, and she asked my friend Jen and me to come along and speak about our jobs. It might be slightly cheeky of me to call myself a writer, but I think I kind of am now (even though I don't get paid for writing my Essex Life column, I do have another job coming up that involves me writing and pays), so it was fun to talk to the children and get them to do some writing of their own. It has also made me want to volunteer with the Brownies!
Eating : After Guides, we went back to Anna's and ordered pizza. Would you believe that I have never had a Domino's pizza before? I think the most I might have had is a slice of someone's else order. I ate a lot more than one slice on Thursday, I can tell you! It's not something I could get into a habit of, for both financial and health reasons, but it was a nice treat!
Receiving : As a thank you for talking to the aforementioned Brownies and Guides, I got an Easter Egg. I can neither confirm nor deny the rumours that it's all gone already.
Watching : I've been trying to get a shifty on with my film total, as I'm running a little bit behind with my goal of one a week. I'm also trying to make full use of my Netflix subscription; there's no point paying for it and not using it!
Fangirling : Remember when I got a bit overexcited about Mark Kermode tweeted me. Somehow I was calmer about Simon Mayo tweeting me. I don't know how, but it may have had something to do with the fact that I've already spoken to him on the radio. Anyway, it's still the coolest thing that has happened to me in a while (this is only a mildly ironic statement).