Have you ever been homesick? Not just that vague feeling you sometimes get on holiday, where you can't wait to get home and sleep in your own bed. I mean the type where you can't see the end in sight, and it just makes you so crushingly miserable.
In 2009, I lived in the USA for four months. I went as part of my degree to study abroad at the University of Connecticut. The study abroad component of the degree was a big factor in deciding what I wanted to study. It wasn't until a year and a half into my degree, when the US application process started, that I began to have a few reservations. Many of these were financial, but a part of me was starting to realise that I was going to be away from home for a quite a long time.
By the time it actually came to leaving for Connecticut in August 2009, I wasn't altogether unhappy. It was a new adventure, and I was excited to be visiting the States for the first time. Saying goodbye to my family had been more emotional than I had expected, but December didn't feel that long away at that point, and excitement mixed with nerves was my primary emotion.
But the actual reality of living away from home for four months wasn't great for me. It wasn't miserable from start to finish; looking back I know that I had some great experiences and I learnt a lot. But I am not good at making friends, and despite being thrown together with the rest of the Study Abroad students from all over the world, I didn't really manage to make any close friends from amongst them. I was pretty miserable during the first week, which was supposed to be all about breaking the ice and making new friends, because it felt a lot like everyone was making friends, but deliberately leaving me out (this is almost certainly down to my own paranoia and insecurities, rather than anyone actually being mean).
There were a couple of things that got me through. Firstly, a friend from my home university, Gemma, was studying at UConn too. Although she had missed orientation week, as soon as she arrived and we realised that she was living just one floor above me, things started to get better. I am eternally grateful to Gemma for being my friend and keeping me sane for those four months! As well as Gemma, I had a visit from my best friends in all the world when Rob, Jen, Anna and Vicky flew to New York to see me and stayed for ten days. I know that they got a fantastic holiday out of it, but you don't get better friends than that. Saying goodbye to them was pretty awful.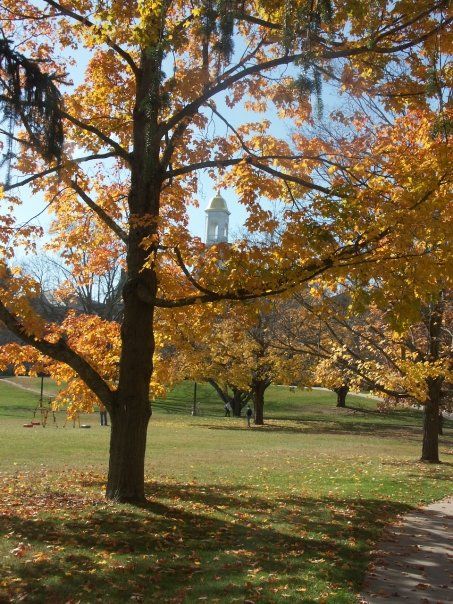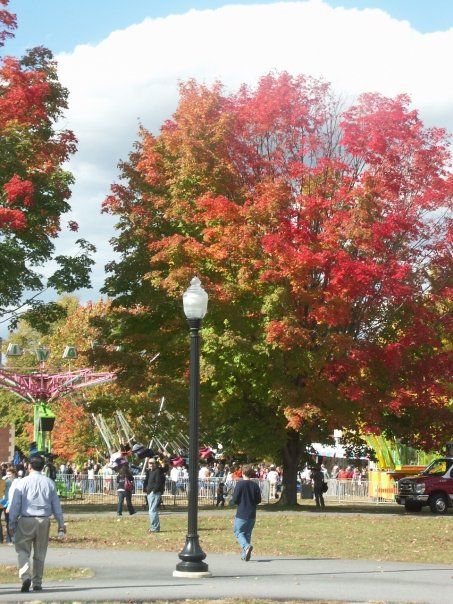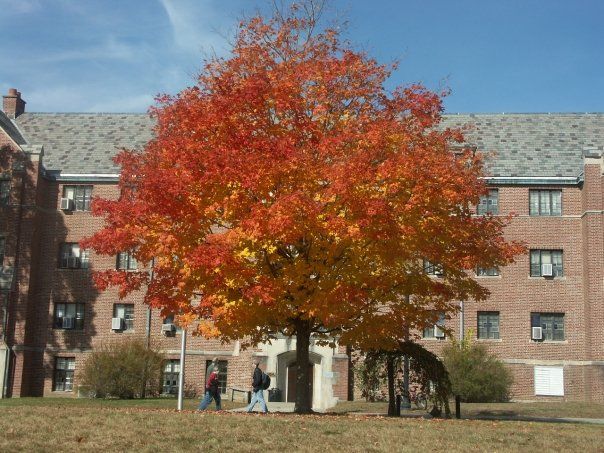 ~ I may have been homesick, but I never failed to appreciate what a beautiful and quintessential American campus I was living on ~
Finally, in this wonderful world in which we live, modern technology means that we don't have to be entirely separated from our loved ones. I skyped people from back home almost every day, keeping my homesickness at bay slightly. Of course, the problem with speaking to people is that it makes you realise just how much you miss them!
Now would seem like a good time to impart some wisdom about how to deal with homesickness, but I don't really have any. I wasn't very good at dealing with it! I'll leave you with this, a song by George Harrison. All Things Must Pass is a good mantra to keep in mind about most things.
[youtube=http://www.youtube.com/watch?v=ebtC3ORg9fU&w=448&h=252&hd=1]