I often spend time thinking about what my life would be like if I'd taken different paths. It's a fascinating concept; the idea that life constantly demands that we make choices, and though we have no way of knowing how things may have turned out if we had chosen differently, it's fun to wonder.
In the film Sliding Doors, we get to see how Gwyneth Paltrow's character's life would have been diffrent if she hadn't missed a train. You could probably drive yourself crazy wondering how life may have been different if all the small things had or hadn't happened. We've all missed trains, or turned left instead of right, and we'll never know how those small and seemingly inconsequential decisions affect our lives.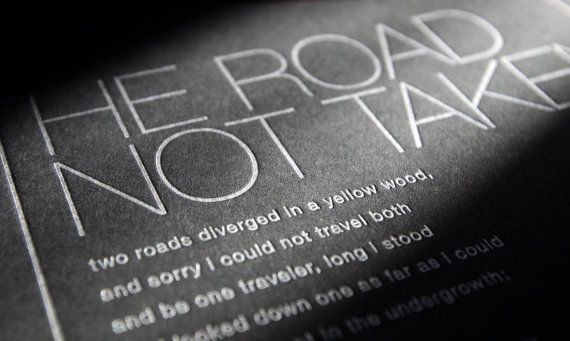 ~ Letterpress Poetry Print available from Lennah Press on Etsy ~
But, in my life, there are a few things that, had they gone differently, would almost definitely have affected who I am today.
When I was finishing primary school, my parents decided that they didn't want to send me to local secondary school, where all my brothers and sisters had gone before me. They chose instead to send me to one about ten miles away. I am not entirely sure what made them decide to do this, but it's a decision I ever resented. Now, at the ripe old age of 31, three of my best friends (and favourite human beings) are people I met at that school. There is next to no chance that I would know them now if I had gone to the other school!

I was meant to go to university straight out of sixth form, but I decided to take a year out. The year turned into six years, and I ended up attending university as a mature student. This is another decision that I don't regret; it was absolutely the right thing for me to have done, but I have to wonder how my university experience may have been different if I had attended as an eighteen year old, and indeed, how that experience would have affected the sort of person I am today.

When I eventually did go to university, despite being what was termed a mature student (I never felt particularly mature), I applied to live in halls. I was allocated a room, and then a couple of weeks later, I was contacted to say that I was being allocated a different room. It was in the same building, just a couple of floors lower or higher. For me, making friends has never been easy, and the best way for me to even think about talking to new people was to get to know the people in my flat. Hannah and Samm were those people, and through them I met Daniela and Richard. Those four people became my best friends and university, and as I never shared a class with any of them, I have to assume that I never would have met them if I'd been in that original room. I can't even begin to tell you how different my life would be if Hannah wasn't in it, and I think that all of my university friends will be in my life for a long time. I like to think that I would have made at least a handful of friends no matter what had happened, but I'm very glad that I made the friends I did!
So these are my three Sliding Doors/Turn Left moments that sometimes give me pause for thought. It's fun to imagine that there are alternate Janes out there, leading different lives!