Last Friday I went to Hyde Park to see Bon Jovi open British Summer Time. It's the second time I have seen them in Hyde Park now, and while I would love to see them play an arena or a stadium, there's something pretty special about watching them in the open air.
I went with my friends Hannah and Jen, and we met up with my sister Kim and her wife, Frances, when we got there. Luckily, the weather decided to change just in time and provide us with blazing sunshine for the afternoon while we were sitting around waiting for Bon Jovi to come on. If anything, it was too hot, but that's not really much to complain about; it would have been much worse if it had been raining!
The actual park itself, where the concert was held, has been transformed into a kind of village for the duration of the event; it's on until Sunday with a plethora of acts taking part including The Rolling Stones, Jennifer Lopez, and Lionel Richie. Elton John was supposed to be there on Friday but has pulled out due to illness, and there are now free tickets available for the day to see Ray Davies and Elvis Costello.
As well as Bon Jovi, we also got to see Bush and Kaiser Chiefs, who were supporting them. I don't know an awful lot about Bush, and I'd forgotten that Gavin Rossdale (who is super hot) was the lead singer until halfway through their set. He actually came right out into the crowd and for a minute I thought he was going to come right towards us. He didn't, but it was still exciting!
I've actually seen Kaiser Chiefs play before, when my friend used to work for their management company and she scored us some free tickets. I am not their biggest fan, but I think they are a great live band, and Ricky Wilson is a good front man, and now that he has a decent haircut, is actually rather attractive.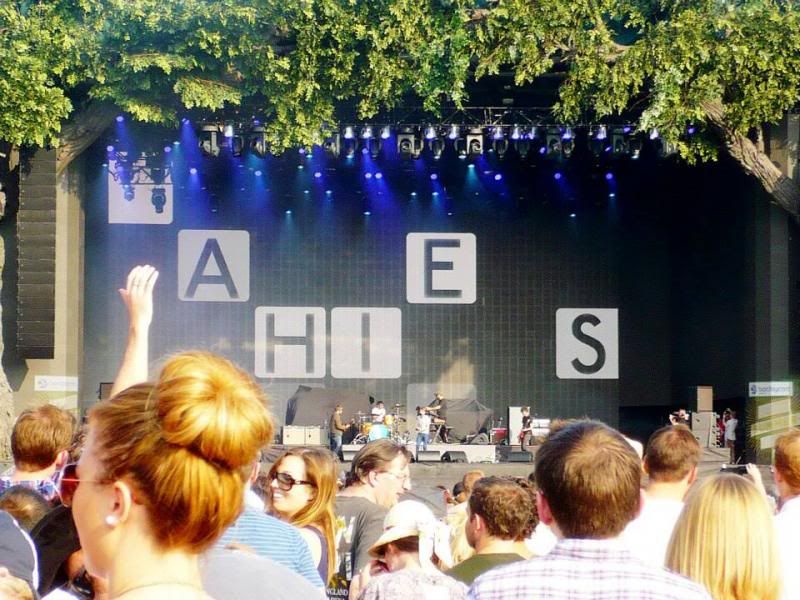 But of course, the main event was Bon Jovi, and we only had to wait until 7.20 to see them! I was impressed by how prompt they were, we expected them to be a bit late, but they came on and started straightaway.
Jon wears red on stage rather a lot (though he did change halfway through to a black top), which makes it really easy to pick him out. As you can see, we were quite far back, but that doesn't really matter to me. Unless you are willing to pay extra to get in the gold or diamond circles, you aren't going to be particularly close. I could see them from where I was, and I could hear them, and that's what matters! I do wish that I had been able to see Tico (the drummer) a little better, because I'm mildly obsessed with him, but I had to make do with seeing him pulling his funny faces on the big screen.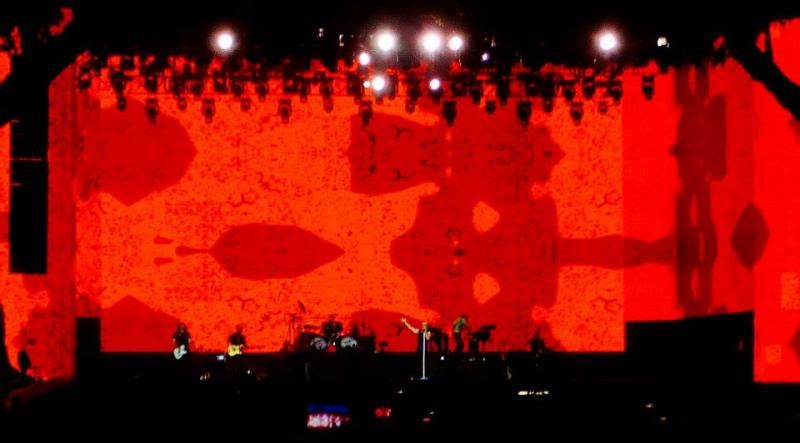 As you can also see, my photography skills from this distance and in the dark are not up to much. Actually, it's my camera, rather than my photography skills!
The gig itself was perfection, of course, with just about every song that I would have hoped for being played. They played a couple off the new album, and they were all ones that I liked and knew quite well, thankfully! But of course, the best songs were all the classics, and I was so pleased that they sang Someday I'll Be Saturday Night (my personal favourite), Who Says You Can't Go Home, We Weren't Born to Follow and Captain Crash and the Beauty Queen from Mars. It was the first time Jen had seen them and she was hoping for Always and These Days, both of which they played for the encore! And Hannah, who knows and loves them the best, was very happy when they sang Dry County, a song that I have never heard! She also loved it that he sang a little solo bit of In These Arms. I was surprised when they did Living On a Prayer before the encore, but they did a little bit of it stripped back and acoustic, which was great. The whole thing was great!
Hannah and I particularly liked loved it when, in the middle of We've Got it Going On, Jon said "I come back to London town for one reason, for one reason only…. I like to hear those British girls scream!" Hence the title of this blog post!
It was the perfect start to a great weekend; I got up to lots but each activity deserves its very own blog post!