For the past couple of years, I have devoted a series of posts to the upcoming television season in America. As a huge geek about television, it's one of my favourite times of the year, and I get super excited about all the new shows that are starting, and all my old favourites that are returning.
This year, I haven't dedicated the same amount of time or posts to the new television season, mainly because I didn't really have the time. But also because I have toyed with the idea of starting a new television blog, where I will share my thoughts on all manner of television things. I haven't finalised all of that yet, but when I do, I'll share it with anyone who is interested!
But I don't like to let this wonderful time pass without commenting on it, and as the new television season is off and running, I thought I'd tell you about some of the shows that I am excited about.
One of the reasons that I love the new season is that it often means that there are familiar faces returning to the small screen. This year, amongst others, we have some The West Wing alumna returning. Bradley Whitford stars in Trophy Wife with Malin Akerman and Marcia Gay Harden, while Allison Janney stars in Mom with Anna Faris. Both are comedies, and neither look exactly stellar, although I think I am much more likely to give Trophy Wife a go. It's a shame Mom doesn't look better, because I adore Allison Janney.
~ source ~
Another comedy, Brooklyn Nine-Nine, looks as though it probably has some staying power; I was quite impressed by the trailer. It stars Andre Braugher and Andy Samberg and has been getting some good reviews.
There are a lot of comedies starting in the US right now, and although I have learnt to be very wary of them, I have a couple on my list to check out. Robin Williams and Sarah Michelle Gellar are starring as father and daughter in The Crazy Ones, but the trailer didn't promise too many laughs for me. Rebel Wilson is headlining Super Fun Night, and although I haven't seen Bridesmaids or Pitch Perfect, I'm a bit of a fan.
There are some dramas heading in as well, though it seems like the schedules are rather comedy-heavy. (There are a lot more dramas debuting at midseason.) Almost Human looks very good from the trailer; starring Karl Urban it tells the story of the NYPD 35 years in the future, where police officers are paired up with life-like androids. I'm very excited about this one.
But the two shows that I have been actively counting down to are Hostages and Marvel's Agents of S.H.I.E.L.D. Hostages stars Dylan McDermott, Toni Collette and Tate Donovan (pretty great cast). Dylan McDermott plays a hostage negotiator turned supposed terrorist, when he takes a family hostage. The mother of the family, played by Collette, is a surgeon planning to operate on the president, and McDermott doesn't want him to survive the surgery. It all looks terribly exciting, and though I don't see how it lasts more than one season, I am looking forward to it.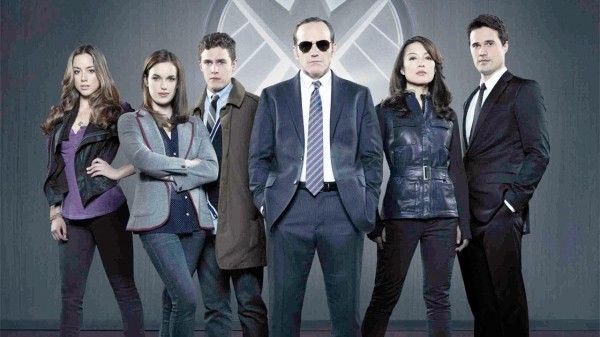 ~ source ~
The big, big, big one, as far as I (and millions of others) are concerned, is Marvel's Agents of S.H.I.E.L.D. It follows Agent Coulson from The Avengers (he lives!) and his team as they try to find superhuman individuals. It debuts in the US next Tuesday, and luckily, Channel 4 have decided to air it in the same week, so UK viewers get to see the first episode next Friday! If that is not a good enough reason to stay in on a Friday night, I don't know what is.