It's time to share the final part of my 34 Before 34 list. I'm already making a start on some of the items; I'm loathe to say that I'm hoping this will be my best year ever, but I do plan to try extra hard this year!
24. Go to ten museums
I just love going to museums, and not just the big ones in London. I am particularly fond of the small local ones, especially in the villages near to where I live. So I'm going to make a conscious effort to go to more, and any that I go to will count, not just new ones.
25. Film a second a day
I love the idea of filming just one second of my day for a month, and then stitching them all together. Since I saw Chef, in which a character does just that, I decided to give it a go. I'm already partway through December, so we'll see how that goes, and then I'm planning to continue for the rest of 2016.
26. Go to a theme park
Traditionally, this goes on my What to Do in… list, which I make in lieu of New Year's Resolutions. But it's going on my birthday list this year, because I've not actually been to a theme park since 2011!
27. Have a driving lesson
I can put it off no longer, it's time for me to learn to drive. When you have to have a day off work because you have no way of getting in, it's probably time for things to change. I don't want to put 'Learn to drive' on the list, because the chances are that I'll need more time than a year to get any good at it, but I have to at least start lessons!
28. See a film outside
This was on my 33 Before 33 list, and I had tickets for an open air cinema, but I didn't end up going in the end! There are more and more open air cinemas every year, so this shouldn't be hard to do!
29. See a play at the National Theatre
I went to the National Theatre recently and had a drink in the cafe. While I was there, I went to the toilet just as the plays in each theatre was starting, and I felt a little frisson of excitement, and wished that I was going to see something! They regularly offer reduced tickets, and there are some amazing looking productions coming up, so I'm going to go!
30. Have afternoon tea
I've had afternoon tea a couple of times, but it's not as regular in my life as I would like.
31. Watch ten films from 1982
There are plenty of wonderful films from the year I was born, so I'm going to watch some of them! These will be all films that I haven't seen before.
32. Read a book for every letter of the alphabet
This was on my list a couple of years ago, when I did it by author's last name. This time it's going to be an A-Z based on book title.
33. Have watched 15% of the films from 1001 Movies You Must See Before You Die
I recently bought this book, which made me realise how many amazing films I haven't seen. I know it's a fairly arbitrary list, but I love a list, no matter what it is, so I like being able to tick them off, or be inspired to watch something new. I'm currently at just over 11%, and I'd like to get up to 15%, which means around 40 films from the list.
34. Bake 8 different tray bakes
It's been ages since I did any baking, or had a baking item on a birthday list. Tray bakes seem fairly easy, but we will see!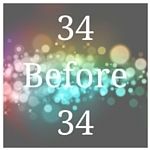 Photo used in image courtesy of Stokpic