Last year, regarding Simon Mayo broadcasting live from the Edinburgh Festival, I tweeted the following:
I'm going next year. Even if I have to hitchhike there and sleep on a park bench.

— Jane (@ITYDarling) August 17, 2014
I make silly declarations like this from time to time, without really thinking about making them happen. But it did happen this year, and I didn't have to hitchhike or sleep on a park bench!
I applied for tickets to all of the Drivetime shows in Edinburgh, and told myself that if I got them, I'd definitely go. When I got an email to say that I had been successful for the Tuesday show, I set about working out the best way to do it. In the end, time off work and money considerations meant that I was only able to stay for one night, and I was going to have to travel by coach. I ended up travelling through the night, both there and back, and I can't say that it was the most wonderful experience of my life, but it got me to Edinburgh for a relatively small amount of money!
All of the BBC events at the Edinburgh Festival take place in a big blue tent at Potterrow. I obviously don't know the city well at all, but the Potterrow area is part of the University of Edinburgh, as far as I know. As well as the tent, the BBC had set up an area that had a bar, food, a big screen, a children's area, and a ping pong table! It was a great atmosphere; particularly on Monday when the sun was shining – I sat outside for a while with some people I know from an online group, and watched people coming and going. The only famous person I saw was Rory Bremner, but I'm given to understand it's a good place to spot BBC personnel! It's completely free to enter as well, so even if you don't have tickets for a BBC event, you can still go along and have a drink or something to eat.
I managed to get a ticket for Monday as well as the one I had for Tuesday, so I got to see two shows being broadcast! For someone who is a) a radio geek, b) a Radio Two geek, c) a Simon Mayo fan, and d) a huge Drivetime fan, this was a pretty big deal. Imagine for a moment getting to see one of your favourite radio shows being made; it's a pretty big deal!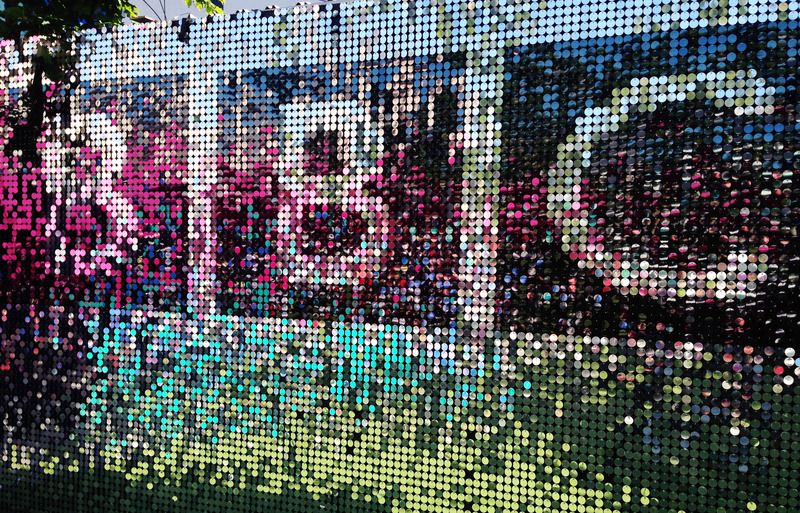 My photos aren't great, but of course I think it's more important to savour the moment than to take thousands of photos. The show comes live from Edinburgh, so it follows a similar structure to what is on the radio everyday. As well as the star of the show, we also got to see Matt Williams and Bobbie Pryor at work; two of the team who do sport and travel respectively, and Claire (who you can see in the above photo), who is the producer. I realise this means nothing to anyone who doesn't listen religiously like I do!
~ Coolest necklace ever, right? Yeah, I know. ~
~ Jo Caulfield and Bridget Christie ~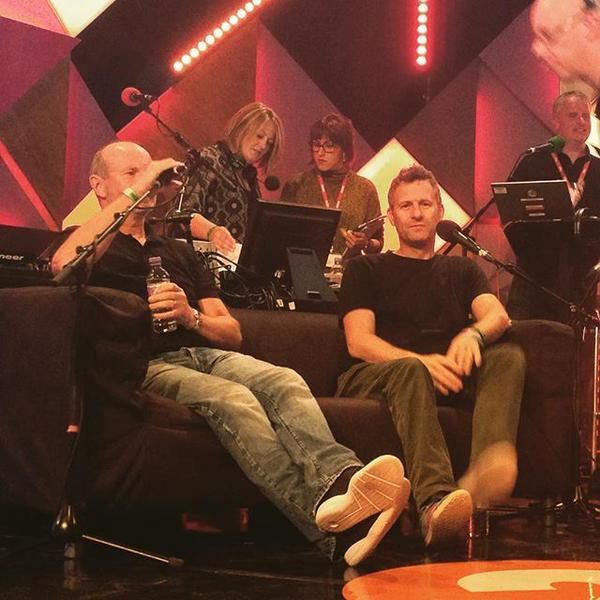 ~ Fred MacAulay and Adam Hills ~
~ Shaun Keaveney, who was a bit drunk on one day (according to him), and a bit hungover on the other (I love him) ~
~ Gyles Brandreth and Joe Lycett (his show is called That's the Way, A-ha A-ha, Joe Lycett. Best show name ever) ~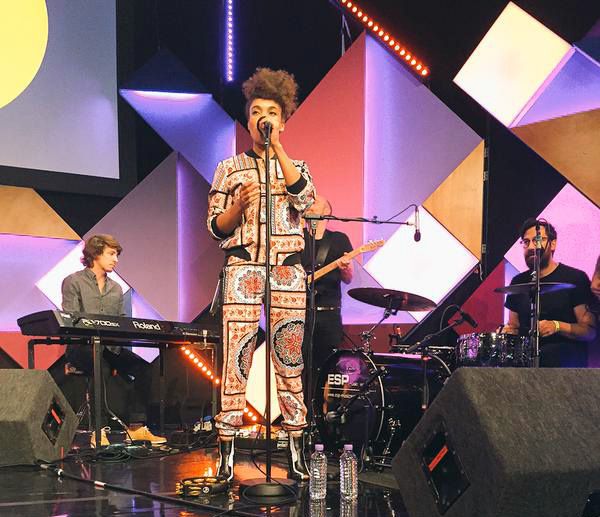 ~ Andreya Triani, who was the musical guest on Tuesday, and who has the most incredible voice. Her album is ace. ~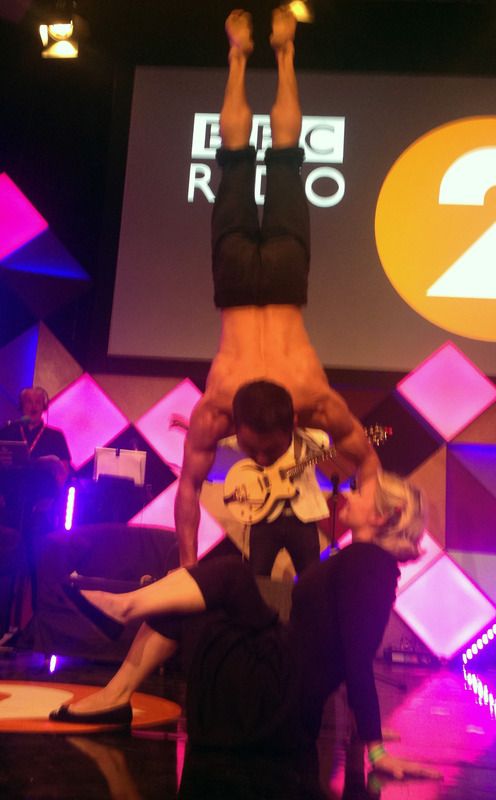 ~ On Monday, a couple of contortionists came in and did some contorting on Bobbie. ~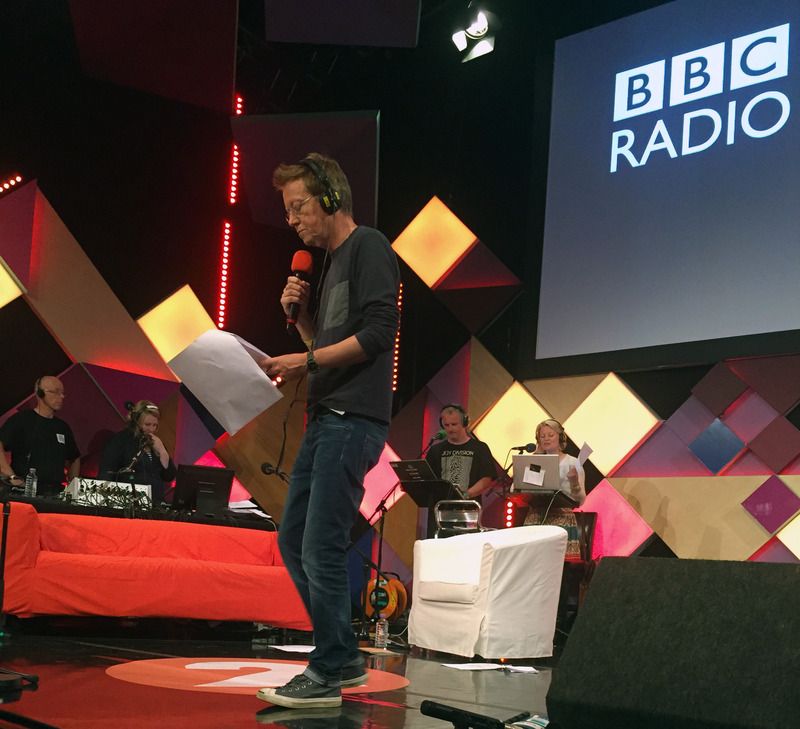 ~ Mr Mayo ~
I also saw Arthur Smith and Lost Voice Guy doing confessions, the latter of whom was hilarious. You can watch it here, and I'd recommend doing so, because it really is very funny!
Spending seventeen hours on a coach over the course of two and a half days just to see four hours of radio might seem odd to some people, but I am so so so so so glad I went. If the BBC are allowed to return to Edinburgh next year, I'm planning a return trip; I want to be there for the whole week, and see more shows!
I will be writing another post about Edinburgh; I did do some other stuff other than Radio 2 stuff!