It's been fairly slow progress on my aim to read ten books based on films; the ones I have read seem to have been accidental rather than by design! But I'm up to four already, with another one in progress, so I'm going to make a concentrated effort in the next few months.
First up, back in March, I read Under the Skin by Michel Faber. I'm not sure what put the idea in my head; I obviously knew about the film from last year, and though I haven't seen it, I know that it is held in very high esteem. I loved the book; at first I found it impossible to put down, and then I really slowed up with it for some reason. I think that's probably because ultimately it did make me feel uncomfortable, but not in a way that makes me think negatively towards it. More in a way that made me question certain things! In case you aren't aware of the story, Isserley is a young woman who spends her days driving up and down the motorways of the Scottish Highlands, looking for male hitchhikers to pick up. To say more would ultimately ruin the story (though, if like me, you have listened to a review of the film, you probably already know the crux of the story), but it's definitely a book I recommend. I haven't seen the film, but I know it's very different to the book.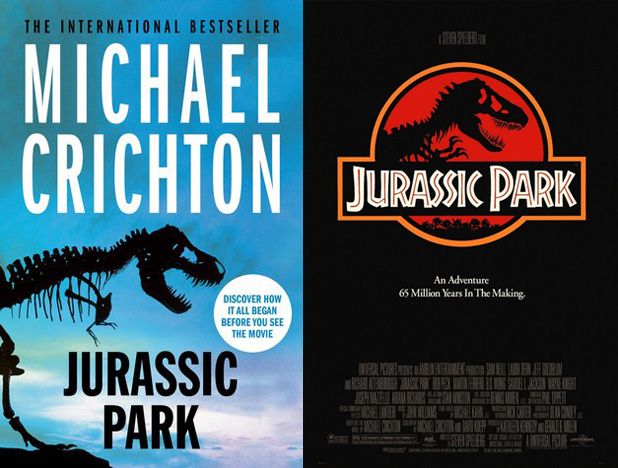 Jurassic Park is almost certainly in my top ten favourite films. I have loved it from the first moment I saw it, and it's one of my earliest cinematic memories (despite being ten at the time I saw it, and I know I saw many films at the cinema before this). So it's somewhat surprising that it took me this long to get around to reading the book. I really don't know why it took me so long, but after I had seen Jurassic World, and having watched Jurassic Park for the seventieth time, I ordered the book on a whim. (It's rare that I actually buy books.) I raced through it, and I absolutely loved it. It has increased my love for the film, as I'm able to watch it through a slightly different prism now, and taken on its own, the book is just amazing. Slightly darker than the film, with similarly heart-stopping set pieces, it goes further in establishing some really well-written characters.
Four down, six to go on number four of 33 Before 33 – read ten novels on which films are based