I'm a big fan of the current crop of UK country acts, and top of the ever-growing pile are Ward Thomas and The Shires. These are two bands that have got a lot of airplay on Radio 2 recently, and I was lucky enough to see The Shires earlier this year at The Water Rats in London, and then I saw Ward Thomas in Hyde Park in September. When I found out that they were touring together, I was desperate to go, and I was lucky enough to get some tickets. I went with Hannah, Jen and Anna; Hannah came with me to The Shires in July, and Anna saw Ward Thomas in September, but Jen didn't really know much about either band. As it was, everyone had a fabulous time, and we even got to meet the bands!
We tried a lot to get a decent selfie of the four of us, and it wasn't easy! I think this was the best of a bad bunch, so I made it black and white to give us a helping hand! Now that I have a selfie stick, bad selfies are a thing of the past!
My gig photos aren't great, because my camera isn't great, but I managed to take a few this time, so I wanted to include them! The support band we saw were Taylor and Marie, a folk/country duo who have a really lovely sound. They started with a rendition of Bad Moon Rising, which is one of my favourite songs, so it was great to hear a new spin on it. They also played a song called I Got Moved, which I loved! It's a shame it's not their EP, Tilt the Moon, because I want to listen to it again!
Ward Thomas came on next, and they are just the cutest girls ever. They are so fun to watch; aside from their fantastic music, they just look as though they are having so much fun on stage, and they really engage the crowd. Their album, From Where I Stand, is just fantastic, and I have barely stopped listening to it this week! They released the single, Push for the Stride, earlier in the year, and it's a really stompy, fun, country tune, but the album is full of so much more; catchy songs you can dance to, and really beautiful songs that showcase the sisters' fabulous harmonies. They did a really full set, even including a cover of Taylor Swift's Shake It Off, during which they warned us that they would attempt the rap (and they weren't half bad!). One of my absolute favourite songs off the album is Way Back When, their latest single, and when they finished it off by mashing it up with Man in the Mirror by Michael Jackson, I was amazed – it was so good!
The Shires finished the night, with a set that seemed a bit short by my standards! Maybe I was just spoilt by having heard them sing a lot of songs at their gig in July, but I wanted more! They are really lovely, and they just sound so good together! I am still waiting patiently for their album (January, apparently), but they were selling copies of their new EP, The Green Note, so I bought that (and got it signed!), and that will just have to do for now. They sang their two singles, Nashville Grey Skies and Tonight, both of which I adore, and they also sang their cover that they recorded for the Radio 2 Sounds of the 80s song, Islands in the Stream. I had been waiting for ages to actually hear it played on the radio, and then I finally heard it a couple of weeks ago, but hearing it live was amazing of course.
The two bands came out at the end to duet on Leaving Without Your Love, a cover of the Striking Matches song. It's not a song I'm that familiar with, but I watched the video they recorded of them singing it a few weeks ago, so I knew it would be the one that they'd sing together, and it's a great song. They are all just amazing, and to be honest, I'm gutted that the gig is over. I want to go again!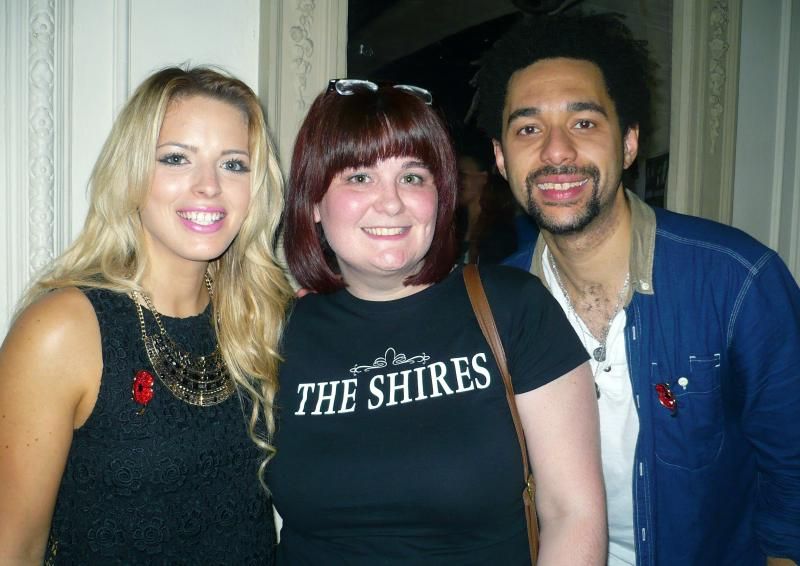 As I mentioned, we got to meet the bands afterwards, and I got my Shires EP signed. I already have the Ward Thomas album, and obviously I didn't have it with me, so I couldn't get that signed, but I did get a photo with them, and I had a little chat with Catherine, and told her how much I had loved the Way Back When/Man in the Mirror mash up. I also mentioned to Ben and Crissie from The Shires that I am a bit of a Twitter stalker fan, and he asked what my Twitter name was, and his face suggested that he recognised it when I told him! Argh!
I really did have a fabulous evening, and because it was the night before my birthday, it was a lovely pre-birthday treat!
#fangirl
* Two of the tickets that we used for the Homegrown Tour gig were provided free of charge for review purposes. All reviews on Is That You Darling are fair and unbiased.