I'm amazed that I managed to get through October without missing a day. As I keep mentioning, October was hideously busy, and I was away for some of it, so the fact that I still managed to take a photo every day is a source of pride!
The prompts were a little different this time around, as they were based on the alphabet for the majority of the month. I've done A-Z photo challenges before, and have always faced the same challenges – what to do for the likes of Q, Z and X! I was at the Yoga Show for some of those letters, so I had to be inventive, but I was pleased with the results. I was annoyed, however, that I didn't get to take a photo of actual, real-life yoga for Y, but I was working too hard to find the time to take a photo, so a shot of the programme had to do!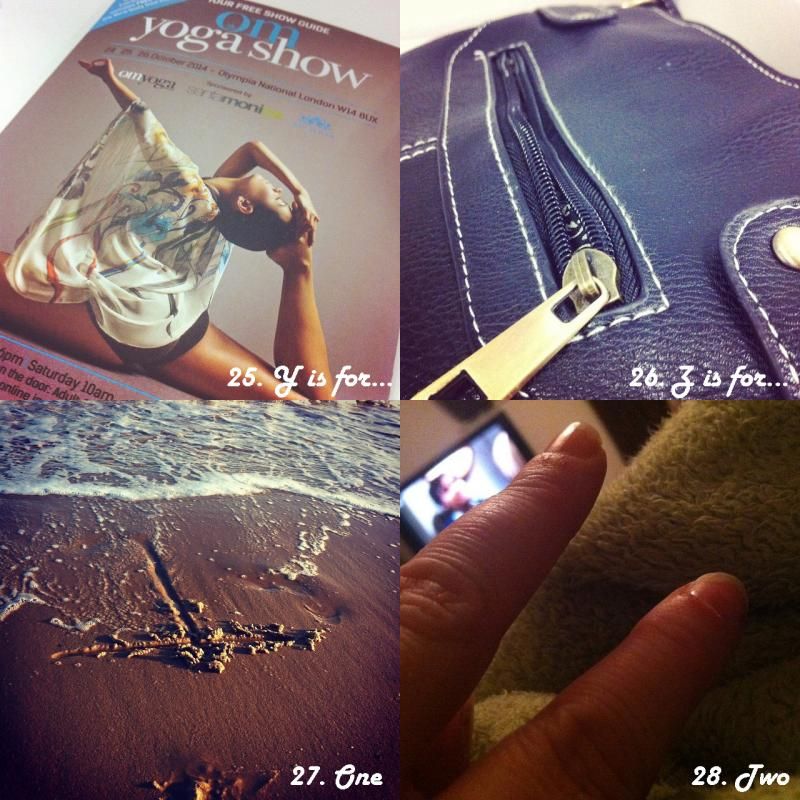 I'm not entirely pleased with all of the photos. I wish I had stuck to either more abstract thinking (like H is for hard at work, I is for in bed), or straight thinking (T is for toes). The same is true of the numbered prompts, I wish I had taken photos of numbers for all of them, or photos of things totalling that number. Anyway, it doesn't matter that much!
My favourite photo is probably number 22, of me pulling a V sign, because I was slightly inebriated when I took it! I also like K is for Knowledge, and number 30, of the four spiders. The most popular on Instagram was my Y photo, number 25. It actually uploaded twice, because I was on an unreliable wi-fi connection, but I worked out that between the two photos, it had fifteen individual likes in total.
October's 31 photos take me to 304/365 for the year. Just 61 photos left to take! (Actually slightly less, as we are already into November.) I have really enjoyed this challenge, and I'm going to be so chuffed when I get to the end of the year, but I will be glad when it is over! I can't see myself carrying on with the FMS Photo Challenge next year, except for doing it as and when I fancy it.
If you would like to join in with FMS Photo a Day, you can find all the details on Chantelle's blog. If you would like to see the rest of my photographs, you can find them all here. And if you would like to follow me on Instagram, my username is ITYDarling.