You may remember, a couple of months ago, that I shared some photographs of me looking awkward in a Hogwarts t-shirt from Primark. Well now it's time for you to see me looking equally awkward in a Gryffindor t-shirt from Primark!
I think Primark are smashing it with regards to t-shirts at the moment. Every time I go in there, I want another one, and if I can find my size (which usually I can't, because they only seem to get about three size 16s in and they sell like hot cakes), I will buy one. My best friend Anna has become my t-shirt dealer; she phoned me a few weeks ago to say that she had seen a Gryffindor t-shirt and did I want one, and then at the weekend she presented me with a Jurassic Park tee because I had gone on and on about it the other day when we were together, and she had seen my size. It's definitely worth having her as a best friend!
Given the opportunity, I'd have all four house t-shirts, and I have seen Slytherin and Hufflepuff, but never in my size. But Pottermore stuck me in Gryffindor, so these are my colours, as it were, and I am fond of red and gold.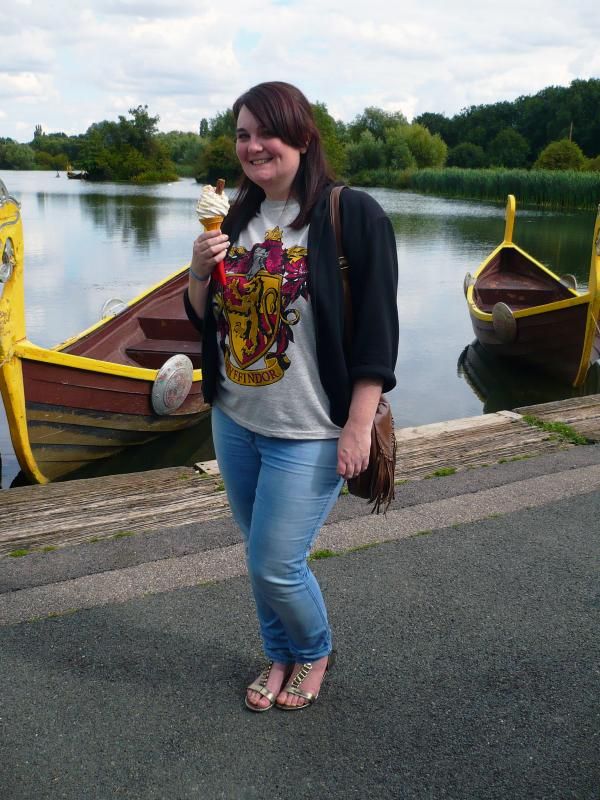 Gryffindor t-shirt ~ £6 ~ Primark
Blazer ~ Stolen from my sister ~ Primark
Jeans ~ £13 (sale) ~ New Look
Sandals ~ c/o Clarks
Bag ~ c/o Choice Discount (Blog post coming soon)
My jeans are also new – I needed a pair of new skinny jeans after I discovered that my old ones were starting to get a bit holey. When I found a pair in the sale in New Look, I tried them on, only to discover that they were reversible! I didn't need too much convincing to buy them – two pairs of jeans for the price of one, reduced to £13, and I had a voucher. You can't really say fairer than that!
My sister-in-law Kelly took the shots, she is actually a photographer, so I could have asked her to do a proper shoot, but I just shoved my camera in her hand when we were walking through the park and asked her if she would take some photos. Ever the professional, she gave me some tips ('chin up!") and then insisted on a jumping shot, which she always makes people do! I love a jumping shot, so I didn't need asking twice. (Actually I did need asking twice, because I was worried people were going to laugh, but I just tucked in my top and got on with it. And we got it first time!)
Ever the awkward non-fashion blogger, she did the best she could, and I love the top photo, of me with an ice cream! I think it's the knee bend – it makes me feel like a proper blogger!
Four down, six to go on number seven of 32 Before 32 – do ten outfit posts.