Right now, I am mostly…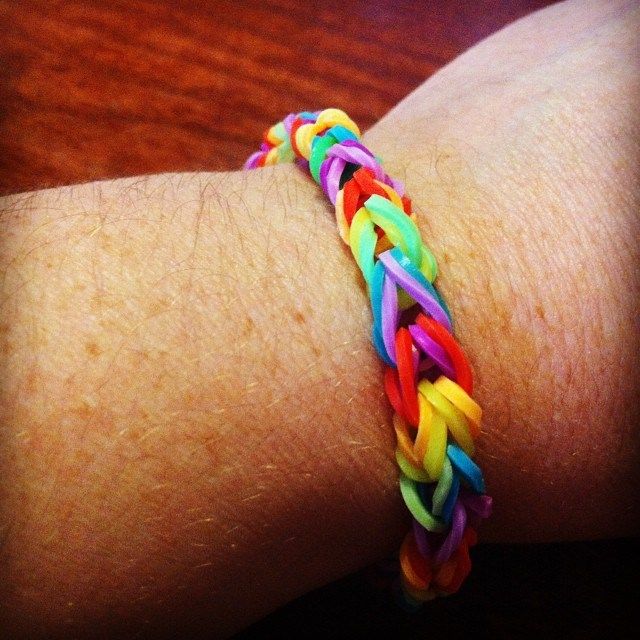 Making : I went to stay with my brother and sister-in-law for a couple of days last week, and my niece Molly has jumped aboard the loom band train. Actually, she had a load of bands but didn't really know what she was doing with them, and it broke my heart a little bit, so I taught her what I knew. That's not a lot, to be honest, but my other nieces had taught me a little bit, so I imparted my knowledge, and we made this rainbow bracelet together. I was super proud of it, but then she took it off me and gave it to her mum. I made a second one that she gave to my dad, and then a third one that she gave to her dad. I was finally allowed to keep the fourth one that I made, which was good but not as good as this one. I'm reliably informed that she is now teaching her mum how to make them!
Reading : My Harry Potter re-read has moved on to Half Blood Prince, which means that I am obviously very close to the end. I haven't read the sixth book very much; it's not one of my favourites to be honest. It's quite refreshing to read a Harry Potter book that I am not as familiar with! I'm also still ploughing on with The Truth About the Harry Quebert Affair, but it's so long!
Singing : On Saturday night I went to the Cliffs Pavilion in Southend to see Singalonga Dirty Dancing. I'm a big fan of Singalonga events – I've been to a lot of them – but I am not a fan of Dirty Dancing. I don't hate it, but I don't love it, and I know that this is fairly unusual for a woman of my age, but I don't have the same connection to it that so many other people have. Anyway, I went because it was a night out with Anna and Hannah, and I ended up having a marvellous time. There was a fair amount of bawdiness; several women there were on a hen night, and things like this tend to get a bit raucous. But it was great fun, and we all got up and had a dance to (I've Had) The Time of My Life at the end.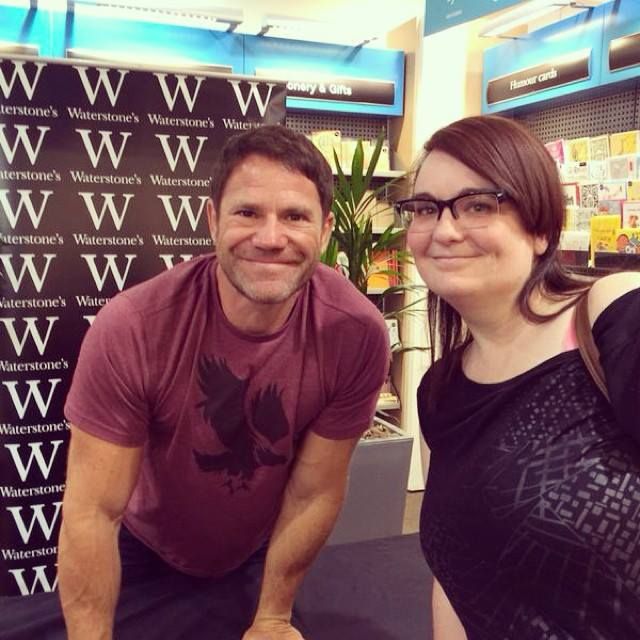 Meeting : I went to Lakeside last week to get a book signed by Steve Backshall. I've been a fan of this man for a while; not only do I think he's a very attractive man, but he's so very passionate about his work, and he seems so nice. Having met him, I can confirm that he is a lovely man, and he has very, very nice arms. I got a bit shy and tongue-tied, but my friend Jen and I had a brief chat, and then she asked if she could take a photo of me with him. I don't look as happy as I was, and as my friend Anna pointed out, we have the same smile in this photo. Which obviously means we are MFEO.
Receiving : After I got back from a few days away, I had a little pile of post waiting for me, and I'm so pleased that this was one of the items! As you may or may not know, I'm a big Simon Mayo fan, and I absolutely love his books, Itch and Itch Rocks, that he has written for children. Itch Craft, the third in the series, is out next month, and I'm really happy to have an advance copy for review. I've already started it, and the review will be up around September 11th, in time for the release.