A couple of weeks ago, I went to see The Shires in London. Sitting on Twitter one evening, I saw that Bob Harris had tweeted a link to their UK tour, and I immediately took a look. Having ascertained that they were playing a London date, I booked tickets immediately. I didn't even check that my friend Hannah was free to come, I just thought that I had to have tickets straightaway! As it turned out, Hannah was free as a bird, and we went along at the end of July.
We decided to have a day off work and spend the day in London first, and I took full advantage to go on a Book Bench quest! After we had seen all of the benches that we could find in the area, we were struggling to decide what to do, so we decided to head over the river and visit Tate Modern. I've been a couple of times before, but Hannah wasn't sure that she had been, so in lieu of any other ideas, that's what we did.
I can't honestly say that I know an awful lot about modern art. I know what I like – Mondrian, Picasso, Matisse – but I get overwhelmed by most of the art on display at somewhere like Tate Modern. I prefer an exhibition of carefully curated pieces, rather than being left to my own devices to browse. But it was a fun afternoon, and it gave me the opportunity to trot out the anecdote that I visited before it was officially open (and before the Queen), back in 2000.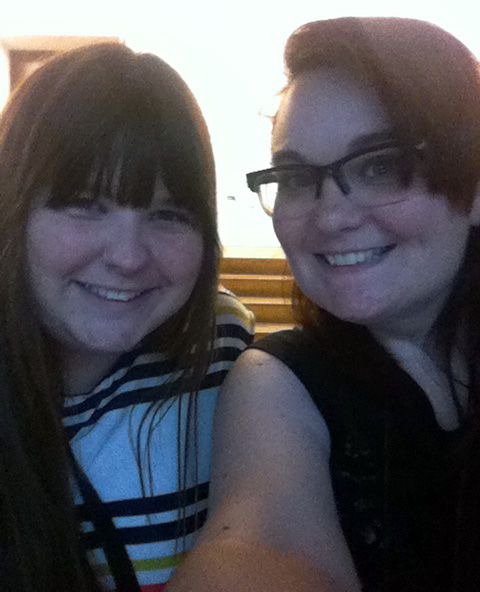 Look, I'm a bloger – I took a photo in Starbucks! I never, ever go in Starbucks. Not for moral reasons, just because I don't drink coffee, and I don't really enjoy paying over the odds for an average cup of tea. But we had some time to waste, so I had a cold drink (too much orange, in my opinion), and some fruit toast. I'm always happy to see jam from Tiptree on my plate!
I've never been to The Water Rats, but my friend V, who used to go to a lot of gigs in London, had told me that it was quite small. She wasn't exaggerating; it's a pub with a back room, and it wasn't very big at all! It was also the hottest room in the entire world; seriously sweaty and disgusting!
Before The Shires played, they had two support acts. Gary Quinn and Frankie Davis are both country artists, and they played a few songs each. They were both amazing, and I've been listening to them on Spotify since I saw them! I really, really liked Frankie Davis, and I'm waiting patiently for her album to come out, as she sang a couple of songs that I thought were really good.
But of course, we were there to see The Shires, and they finally came on. The Shires are Crissie and Ben, and it should be noted that they are both beautiful people. But it's their music that makes me love them, and I wasn't at all disappointed; they sang their first single, Nashville Grey Skies, which I have been playing over and over and over for months! They did a really long set, and I think they must have sung most of the songs from their forthcoming album. Their latest single, Tonight, is another great one, and it's being played all over Radio 2 at the moment! The crowd were divided in two (and Ben looked right at me when he divided – swoon), and both halves had to sing along to different parts. If you're at all interested, some kindly soul has uploaded the performance to YouTube; I keep watching it because it's so great!
I tried to take a few photos, but I had forgotten my camera, and sadly my phone wasn't up to the job. After a couple of attempts, I gave it up as a bad job, and just decided to enjoy the music. I'm now (im)patiently waiting for The Shires to release their album; after hearing so much good stuff at the gig, I want to be able to listen to it over and over!
I bought a t-shirt while I was at the gig, because I had seen some other girls wearing them and was jealous! You can't be a super-fan without a band tee! I have already worn it a few times, but I'll definitely be wearing it in November, because I'm going to see The Shires again! This time they are doing a joint tour with Ward Thomas, who are another UK country music duo, and whose album I adore. I think there are still tickets available, and they are all over the country, so book some. You won't be disappointed, I promise!