When I read about the Books About Town benches that were going on display all over London, I knew that I would have to try and find as many of them as possible. In case you don't know, The National Literacy Trust got together with Wild in Art and commissioned artists to design sculptures shaped as books, celebrating famous novels. They are placed as benches across London, and there are different trails that you can follow to find them all!
I love a quest like this, I was always quite jealous that I couldn't go and find the Gromits in Bristol, so I was all over this! And it's a celebration of books, and as you probably know, books are my favourite thing.
I headed into London on Monday with my friend Hannah; we were going to a gig in the evening and we decided to make a day of it. We hadn't really made any plans, but I decided that it might be a nice idea to try and find some of the benches, and Hannah agreed, so we did! I checked out the website, and made a note of the ones that were close to where we were going to be. I was hoping that there would be an app that would give you the location of each bench in relation to where you are, but sadly that's not the case. You can download a map to print off, but as my printer isn't working, I had to resort to a pen and paper and my trusty London A-Z!
I took quite a few photos (as did Hannah, and some of these are obviously hers, as I am in them!), but I had forgotten my camera, so had to rely on my phone! As such, they aren't the best photos in the world, but they'll do. There are a lot of them too, so be prepared!
First up, we found the Jeeves and Wooster bench at The Brunswick. It was designed by Gordon Allum, and it's rather fetching! It was in use when we arrived, but when I went to read the information next to the bench, the girls on it got up and moved! I felt a bit bad, because I didn't want them to think that I was forcing them off, but I was glad of the opportunity to have a photo!
As you may be able to tell from the number of photos here, I loved the Narnia bench. It's so pretty! It's in St George's Gardens, on the Bloomsbury Trail, and there was someone on it when we arrived, but again, he moved on after a little while. I was really conscious of not crowding people who were sitting on the benches; although I really wanted photos on them, I think it's rude to force people to get up. There was a family that we saw later doing exactly that, and I didn't like it. Luckily we managed to get photos of this one, which was designed by Mandii Pope.
The Mrs Dalloway bench is in Gordon Square Gardens. When we arrived, we were expecting the Sherlock Holmes bench, because the map confused me (make an app!). I am not terribly familiar with Virginia Woolf, so the bench didn't mean a lot to me, but it's still beautifully designed (by One Red Shoe). I might try to read it now.
We did eventually find the Sherlock Holmes bench, it's in Woburn Square Garden, opposite Golden Square Garden. Using the website on my phone made it look as though the bench was in the same park as the Mrs Dalloway bench, but it wasn't, and we found it in the end! It is designed by Valerie Osment, and there was a lady sitting on it eating her lunch. She got up for us, and said that we were the third people to come along and take photos! She was very nice about it, and we were telling her about all the other benches around the city.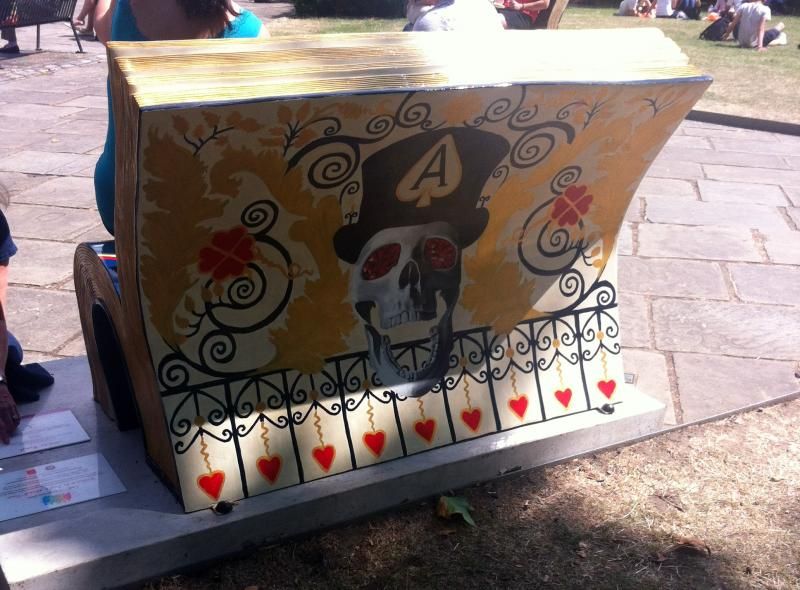 We did head over to Queen Square Park and Garden to see the Pride and Prejudice bench, but there were some people on it, and although we waited around for a while, they weren't going anywhere. I couldn't even get a photo of the back of that one! We moved on to Bloomsbury Square Gardens to find the James Bond bench (designed by Freyja Dean) and the Agatha Christie bench (designed by Tom Adams), but by this point it was a sunny lunchtime, and there were so many people about, there was no chance we were going to find empty benches! I'm sad we didn't get to see the front of these benches, as they look great, but I am planning another trek at some point, so I'll try again!
All of the benches that we saw are on the Bloomsbury trail, and there are four others – Greenwich, City and Riverside. There are a few benches that I am desperate to see, Mary Poppins being the main one, so I am definitely planning another trip before the benches go up for auction in October.
Have you seen any of the Books About Town benches?