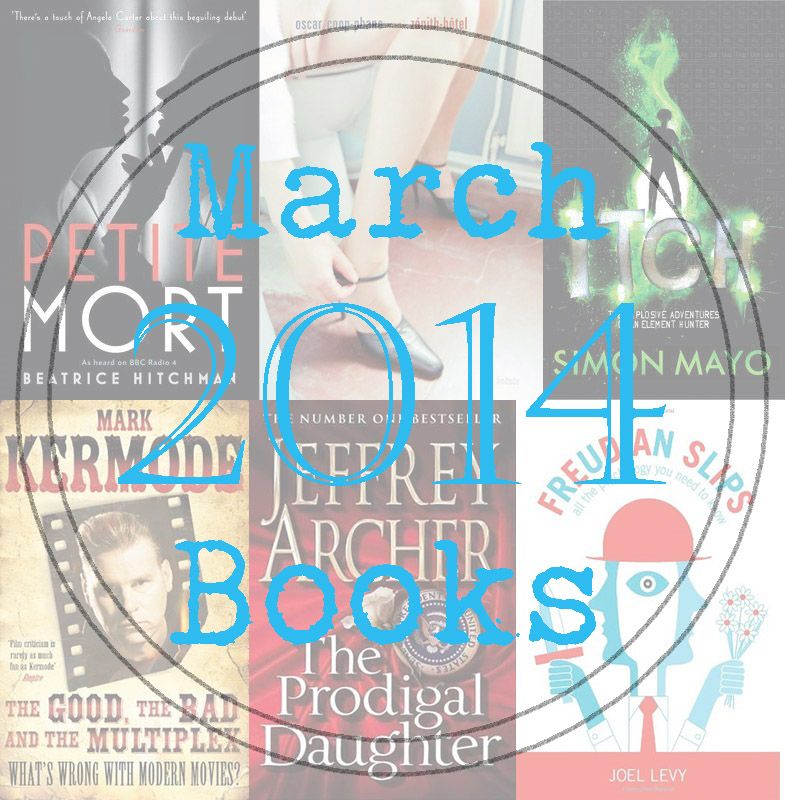 As ever, I feel as though I need to apologise for my ropey Photoshop skills as far as the above collage is concerned. I wish I could make things a bit more uniform month-on-month, but that kind of thing eludes me at the moment. Considering my dad is a Photoshop expert, I shouldn't have these problems!
I managed another six books in March, meaning that technically, I'm still on track for my goal of 75. Six books a month is fine, I just need to work in two seven-book months, and I'll hit 75 exactly. I know that all this sounds terribly clinical and statistical, which may seem to some as though it takes away from the fun of reading. But it doesn't for me; it just adds to it!
Petite Mort by Beatrice Hitchman
Petite Mort tells the story of a young woman who comes to Paris to make her name as an actress, but ends up as a seamstress, and becomes embroiled in the life of a husband and wife who are major players at the Pathé studio. I really enjoyed it; I liked the exploration of early Parisian cinema, and the characters, and I enjoyed the non-linear structure of the narrative. I liked that it took a turn that I wasn't actually expecting (despite the fact that the cover image certainly hints at it). But ultimately, I was rather underwhelmed by the 'twist' that the blurb on the back promised me, and urged me not to reveal. Given that it was talked up so much, I was expecting more, and frankly, I think I had worked it out before I got there. It's a shame that I felt let down by the ending, because I enjoyed the story of obsessive love that led up to the reveal.
Hotel Zenith by Oscar Coop-Phane
I wrote a review of Hotel Zenith when I finished it, and a couple of weeks on, this book has really stayed with me. It's a very short book, one that can easily be read in one sitting, and I probably enjoyed it a lot more than I was expecting. It is narrated by Nanou, a prostitute in Paris, and I really appreciated the grubby, seedy way that Paris was shown through Nanou's eyes. Given that Oscar Coop-Phane wrote it at the age of 20, it left me feeling both inadequate and inspired when it comes to my own literary ambitions.
Itch by Simon Mayo
I fully intended to write a full review of this book, then my plan was to tweet Mr Mayo with the link, and hope that he would reply to me. But then I didn't get round to it, and he tweeted me anyway on an unrelated subject, and all was well with the world. Well, my world. Anyway, I really liked Itch. I think it's a great book in the style of other school-based children's/young adult books, without taking too much inspiration from them. It's about a teenage boy called Itchingham Lofte who considers himself an element hunter. When he comes across a rock that seems to be a brand new element, he finds himself pursued by nefarious criminals. It's a really fun book, and I'm not just saying that because I love the author. I particularly like the way that the girls in the story are written, and as I'm currently reading the sequel, I'm planning a review where I'll talk in more detail about Itch's sister and cousin.
 The Good, the Bad and the Multiplex by Mark Kermode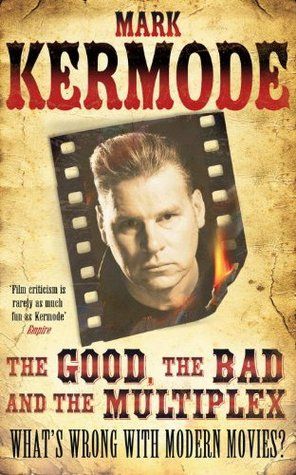 Another one that I have written a review for, because it's one of the ten non-fiction books I want to read for my 32 Before 32 challenge. As I mentioned in that review, it's the third Mark Kermode book I've read this year, and I'm currently on my fourth. I never do things by halves. I enjoyed this one, but I was very aware that part of my enjoyment comes from being a big fan of the man himself, and I'm not sure if I would necessarily recommend it to someone who was unfamiliar with or annoyed by his style. That being said, it's always good to read a book by someone who is as passionate and knowledgeable about a subject as Kermode is when it comes to cinema.
  The Prodigal Daughter by Jeffrey Archer
I need to write a proper post about The Prodigal Daughter, because it's a 1982 book, and therefore is a part of 32 Before 32. I never would have considered reading any Jeffrey Archer before, though not for any particular reason. I don't think an author's chequered private life or political affiliations is a reason not to read a book, so I had no problem with picking this up when I found out it was published in 1982. I will save my thoughts for a proper review to come soon, but suffice to say, it's a book about the American political system, so I enjoyed it rather a lot.
 Freudian Slips by Joel Levy
I spotted this one at the library on Saturday morning, and picked it up for two reasons; I liked the cover, and the blurb mentioned a psychological study in which people were asked to count the number of passes made in a game of basketball, and completely missed the man in a gorilla suit who wandered onto the court halfway through. I need to write a proper post, as this is a non-fiction title, but I only finished it on Monday, so I'm a bit behind. I really enjoyed it; it gave a very brief explanations of various psychological terms and conditions, and there's a part of me that wishes I'd studied a psychology degree, so this was a good taster of something I'd like to read more about.
Eighteen books down, 57 to go in my aim to read 75 books by the end of 2014. Follow me on Goodreads to keep up with my progress.