Just a quick reminder that My Thoughts On… posts may contain spoilers, so if you haven't seen the film in question, please skip down to the section titled Why Should You See This Film?where you will find no spoilers!
For some reason I have left it ages and ages to write this post; I watched Chloe on 30th January! To that end, it's probably going to be one of those vague posts that I have to end up writing sometimes!
Synopsis
A doctor hires an escort to seduce her husband, whom she suspects of cheating, though unforeseen events put the family in danger. (via IMDb)
What I Liked
I really like the three main cast; Julianne Moore, Liam Neeson and Amanda Seyfried. I think they are all good actors, and because of that, it's always good to watch them, no matter what they are doing. I think the stand out performance is probably Amanda Seyfried, as Chloe, the call girl. She manages to be vulnerable and sad, but at the same time portrays her as slightly unhinged.
Generally, I enjoyed the story, even though I knew the 'twist' before I watched the film. It was interesting to watch Julianne Moore's character's life unravel, almost entirely of her own making. There was just the right amount of tension, watching the plot twist and turn until it became clear what was happening.
Nina Dobrev is in the film for the briefest of moments, but I love her. She is one of those people who I just wish I could look like for one day. What must it be like to be that pretty?
There's a fair amount of sexual scenes in Chloe, but none of them ever feel particularly cheap or gratuitous. They are all done tastefully, and while I might not want to watch this film with my dad, I didn't find it too graphic or exploitative.
I really liked the way the film was shot; there was a greyness to it that really appealed and seem to fit with the story. Also, it was great to see Toronto as Toronto!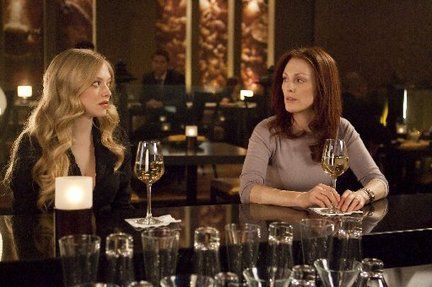 What I Didn't Like
I don't think I was too keen on the ending. I think it degenerated into something that wasn't as smart as the rest of the film was promising to be. It all feels too easy at the end, and seems to be tied up neatly with a bow.
I really like the idea of exploring how a woman starts to feel less attractive as she gets older, and this feeling is compounded by the fact that her husband just becomes more and more attractive, not least to the woman herself, never mind anyone else. I also know it isn't helpful to look at a woman who looks like Julianne Moore and assume that she could never have these types of anxieties, because she is beautiful and has a fantastic body. Having said all that, it is Julianne Moore saying it, and it makes it slightly more difficult to swallow, because she is Hollywood good looking.
Why Should You See This Film?
I'm not actually sure that I would necessarily recommend this film to anyone. Not because it's bad, but because it's just not that remarkable. It's fine while you are watching it, and it's thriller-ish enough to be enjoyable, but it's not a film that has stayed with me for long, hence why it has taken me so long to write about it! I suppose if you're a Julianne Moore completist, or a big fan of Amanda Seyfried, it's not a terrible way to spend an hour and a half.