I've never really been one for celebrating Halloween as such, even though I enjoy fancy dress as much as the next person. I didn't even really celebrate it when I was living in the States, even though is a proper event there. But when I was offered the chance to take part in F&F's Glamourween competition, I was instantly on board! Fifteen bloggers were asked to create an urban witch look using F&F clothes and accessories.
I spent quite a long time trying to work out exactly what I wanted to do, browsing for hours through the website looking at all the beautiful clothes, and in the end I decided that I wanted to try and emulate a 90s look, reminiscent of the girls from The Craft.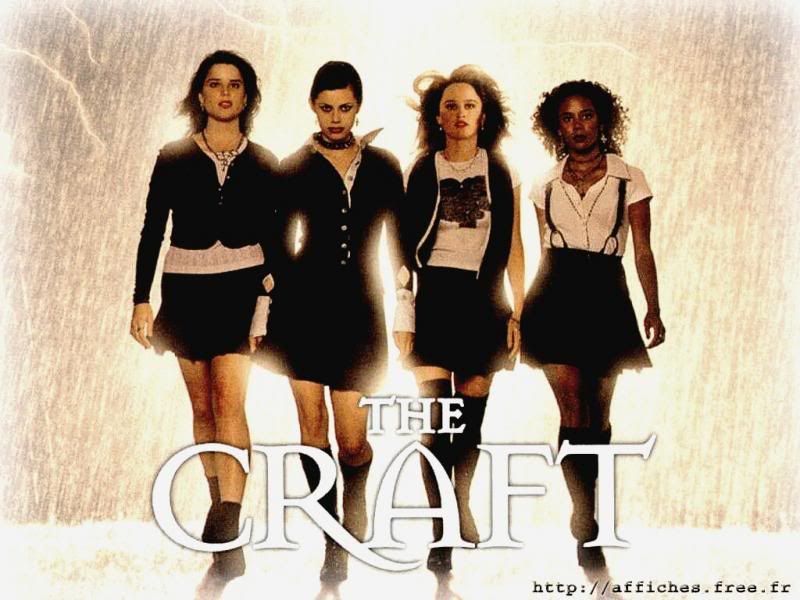 So this was my inspiration, though I am not entirely sure that I totally pulled it off! It was hard, but I am quite pleased with what I achieved in the end, and I would be quite happy to wear this to a Halloween party (as long as strict costumes weren't compulsory!).
F&F Vest with Chain Necklace ~ £7
F&F Limited Edition Textured Skater Skirt ~ £14
F&F Contrast Strap Hidden Platform Shoeboots ~ £19.50
I also bought some over the knee socks to really try and complete the 90s witch look, but when I tried them on it turned out that they don't really suit a plus-sized thirty year old! So I gave them a miss and added in some tights that I bought a little while ago.
As ever, I feel I should issue the usual disclaimers about my awkward outfit poses; I struggle so much with them even though I had a fabulous photographer in the form of my friend Rob. He was channelling Nigel Barker from ANMT, of which Rob is a fan, and he did really well, and eventually I did start to relax a little! All credit therefore goes to Rob for the photos, which are fabulous, even if the model is only so-so!
I was also sent a lovely little package with some makeup bits and pieces to help complete my urban witch look; I used the Revlon Colorstay Smoky Shadow Stick to create the best version of a smoky eye I can manage, and the Barry M Raspberry nail varnish to finish off the look. I have never had too much luck with false eyelashes, so I gave them a miss this time! (By the by, the sweets didn't last long!)
One lucky blogger who takes part in the Glamorween competition is going to win £200 of F&F vouchers, and after spending so long browsing through their range the other day, I have to hope it's me so I can buy some of the lovely things I'm coveting!
* I was provided with a voucher to purchase the items used to create my Glamourween look