You'd be forgiven for thinking that I had forgotten about my Simple Pleasures series. I started it back in February, with singing along to your favourite songs, and continued in in March with reading in the bath. Then things stalled, but it's back!
Today's simple pleasure is about food. Food is a pretty simple pleasure in and of itself, if like me, you love eating. But specifically, today's post is all about the food that takes no time whatsoever to prepare, but is totally delicious.
For me, a snack or meal that has a great preparation time to enjoyment level ratio is a winner. Something like a roast dinner is infinitely yummy, but it takes so long to make, that by the time you go to eat it, you're exhausted. Hence why a carvery is always a delight; all the fun of the eating without any of the preparation.
But you'd never go out to a restaurant and order beans on toast (at least I wouldn't), because it's so easy to make at home. I often have beans on toast for lunch, and it's the quickest thing to make, but one of the most delicious things to eat. Seriously, I adore beans on toast.
Obviously, any self respecting beans on toast has to have a generous sprinkling of cheese on top (parmesan or cheddar works for me). Just looking at this photo is making my mouth water!
Another snack that I feel has a good ratio is nachos. Or at least, nachos the way I make them! If I have guacamole, I use it, but more often than not I just have tortilla chips, cheese and sour cream.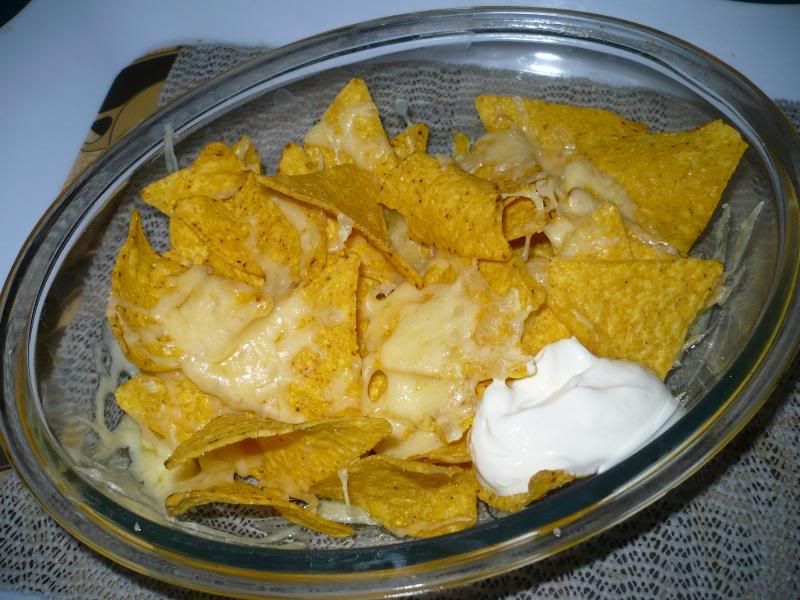 I know that most Mexicans and Tex-Mex aficionados would scoff at my nachos, but I don't care. I put some tortilla chips in a dish, sprinkle on some cheese, bake for about ten minutes and serve with sour cream and guacamole where available. Another snack that doesn't take any time or effort to prepare, but is delicious once it's ready!
What are your favourite snacks in this category?