I decided it might be nice to go with a Sunday for Photo an Hour in December, just to make a change. In the end, it didn't make a lot of difference to the type of photo I uploaded, because I didn't do an awful lot, but it's nice to change things up once in a while!
11am ~ I stayed at Anna's on Saturday night, and even though they have a small child in the house, I still managed to sleep late! I actually got up earlier, but then snuggled down on the sofa and fell back asleep! When I did get up, I finished my book and Anna put Fun House on the telly. Pat Sharpe's hair is obviously a beautiful thing to behold.
12pm ~ We had watched the Gavin and Stacey Christmas special the night before, and when there was really nothing on the telly, we put the DVD of the first series on. I can honestly say that I never, ever get bored of watching Gavin and Stacey. It's probably my favourite sitcom ever.
1pm ~ As I said on Twitter, when you stay at a house in which a small child resides, all you have to do is move and a toy starts talking to you. This is one such toy.
2pm ~ Rob had some trouble finding a suit that fit on a shopping trip, so Anna helped him out by measuring his manly chest. I can't remember what the outcome was, though he thought it was a bit ridiculous that she was using a Hello Kitty tape measure to do it.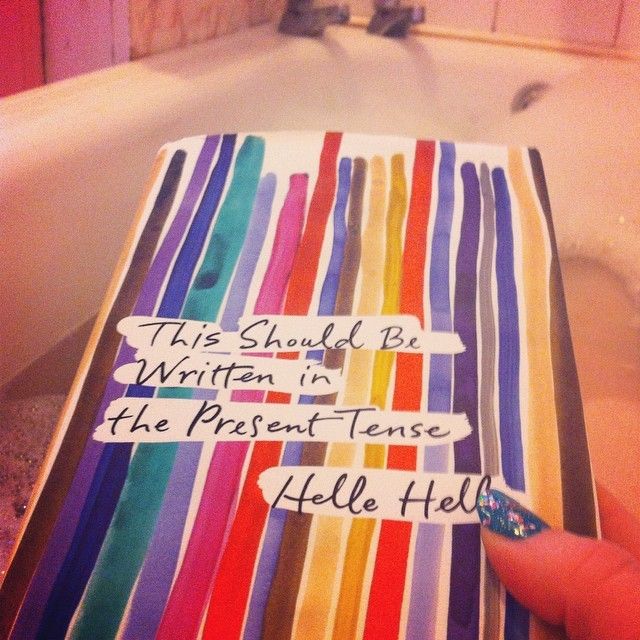 3pm ~ I often end up with a wing mirror photo in my Photo a Day photos! Anna dropped me home, and so I snapped a photo in the car. I actually quite like it because I like the sky in the window reflection.
4pm ~ I also often have a book in the bath photo on these days! I love the cover of this book, but it's taking me far too long to read it, considering how short it is. Review will follow when I eventually get through it.
5pm ~ For some reason, after I got out of the bath, I felt so completely wiped out. I walked to the shop, and I could barely make it because I felt so weak! I think it was from not eating anything other than toast all day, so I had something to eat and laid down on my bed to read some Empire magazines that I've been stockpiling and eat some of my favourite sweets.
6pm ~ Still laying on my bed, but I'd moved onto my book and catching up on Pick of the Pops from Saturday afternoon. As you can see, that's a different book from the one I was reading in the bath, because this is a library book that needs to go back to the library soonish, so I needed to at least make a start on it!
8pm ~ For some reason I didn't suspect that if I got into bed to get warm, I would fall asleep, but that's exactly what happened, and I missed the 7pm photo! I woke up in time to see the end of the Strictly results show, and then Sports Personality of the Year started. It's changed an awful lot since I used to be obsessive about watching it, and I got bored within about ten minutes of having it on. The only interest it has for me now is to know who won so I can remember for quizzes.
9pm ~ I had some blogging to do, so I wanted to put a film on in the background, so of course I turned to Netflix. I put The Hobbit: An Unexpected Journey on, but I got bored fairly quickly and ended up watching old episodes of University Challenge on YouTube.
As Louisa from Duck in a Dress is my partner in crime when it comes to Photo an Hour, I have asked her to take up the mantle for every other month going forward. She will be setting the date for January, so be sure to head on over to her blog, and follow her on Instagram and Twitter to find out more. She'll also be rounding up who joined in with December, so let her know if you were a part of the gang!